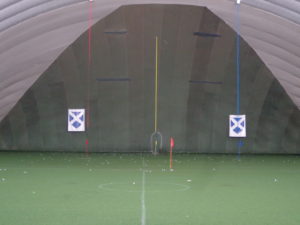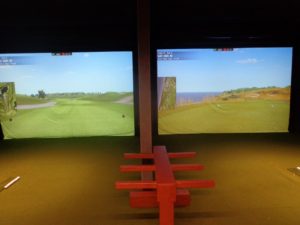 THE BEST OF INDOOR GOLF, the renamed Mistwood Golf Dome in Bolingbrook is now complete with Toptracer technology, check out all the options Toptracer gives you when you visit the Mistwood Golfdome, Mistwoodgolfdome.com (630)-739-7600 for more details. Enjoy McWethy's Sportsbar while you are there. THE SCHAUMBURG GOLF CLUB has updated the course list on it's simulators. Can you win your Ryder Cup match, play 2018 venue LeGolf National, or 2020 Ryder Cup home Whistling Straits in Wisconsin. Schaumburggolf.com or (847)-885-9000 for times. #chandlerschophouse.
Schaumburg Golf Club GM Jon Parson's has more on SGC's simulator's for indoor play.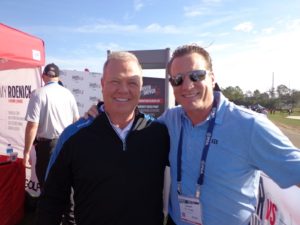 THE JUDGES HAVE SPOKEN- (L) President of Wilson Golf Tim Clarke and former NHL star Jeremy Roenick two of the three judges on Driver vs Driver 2 at Demo Day 2018 in Orlando. Along with social golf media guy Rick Shields the three judges made the final votes last night on Driver vs Driver 2.
Congratulations to winner Evan Hoffman whose Cortex Driver with Cage technology ($499.00) defeated Tim Slama's Rozwell in the final episode.
Hoffman wins the $250,000 and in a great move by Tim Clarke, Wilson Golf was very impressed by Slama's design, so as a surprising runner up prize, Wilson golf is paying for Slama's final year of college at Oregon State University. In addition, Slama made it clear during the program that he wants to design golf clubs for a living when he finishes school next year, and Wilson appears they will be giving Slama a job at Wilson after he gets his engineering degree. So maybe some form of Rozwell will come along someday if, Slama becomes a Wilson golf club designer sometime in 2019.
**Editors note** During an exchange of emails with Tim Clarke yesterday, Clarke admits he has a crazy schedule for the next 48 hours, but will speak with Golfers on Golf as a soon as possible about the show and the new Wilson Cortex Driver. GOG is attempting to speak with winner Evan Hoffman as well. As soon as Wilson has a Cortex available here in Chicago to hit, GOG will post a review.
Here's hoping Wilson continues with the format, but maybe it's time for Putter vs Putter. RS.