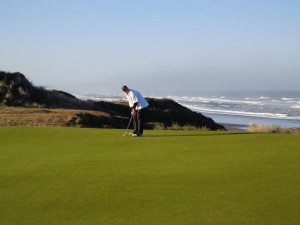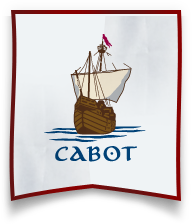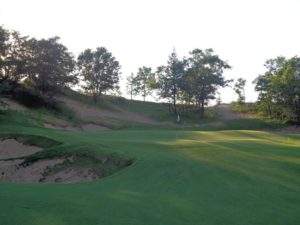 BANDON DUNES                  CABOT LINKS                  SAND VALLEY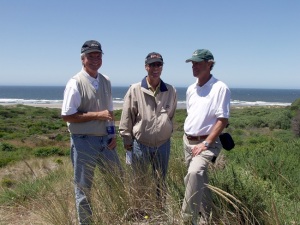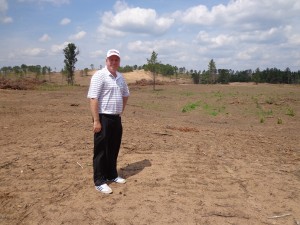 MIKE KEISER (R) with Ben Crenshaw and Bill Coore at Bandon Dunes. Gog Blog Editor and Director of Content Rory Spears, on the floor of Sand Valley in Wisconsin during it's early days of property clearing.
MIKE KEISER was once in the greeting card business, but he had bigger and better idea's. Golfers everywhere are really glad he did.
What started out as nine hole course in New Buffalo Michigan, has grown into destination golf across America and into other countries as well.
For those in North America, Keiser and friends have created plenty of places to enjoy links style golf.
Keiser has heard all the terms that are "out there" about him. Visionary, magic man, and someone ahead of his time. But what he likes to say about himself, is that he is guy who likes to build "fun" golf courses. He jokes that he will continue to do so until he runs out of money. Then again if you know Mike Keiser, you know he might not be joking.
For those of you not up to speed on Keiser's latest project Sand Valley in Wisconsin, it's taking off and quickly. Keiser admits that they are doing more business than expected and the Midwest golfers who enjoy 18 holes across the sand dunes are enjoying themselves at Sand Valley.
The first 18 holes called Sand Valley, by Bill Coore and Ben Crenshaw has been open with all 18 holes since June 1st. Now Part 2 Mammoth Dunes the sequel by David McLay-Kidd is off and running as well. Nine holes are open already, and much of the other nine could be open before things shutdown in 2017.
The cottages have been full, and the Craig's BBQ shack that overlooks hole 1 of Sand Valley has been packing them in. The main clubhouse is open too, and golfers are then headed out the door and onto Mammoth Dunes.
Coore and Crenshaw have built the par 3, course that will open in June of 2018, the only question now is when does course #3 get built and what lucky architect will get the call to start crafting up drawings.
After playing in the 2017 BMW Championship pro-am at Conway Farms to support the WGA and the Evans Scholars Foundation, Keiser took time to speak with Golfers on Golf, one-on-one. He spoke about Sand Valley, Bandon Dunes, Cabot Links and Cabot Cliffs, a small growth in destination golf courses coming online.
But what gets interesting is the fact Keiser might not be done in Oregon, could he have found a new U.S. Open location, maybe so. Hear the scoop in our interview below.
Click here to hear our interview with Mike Keiser at the BMW Championship.
The season is not over at Sand Valley in Wisconsin, Sand Valley GM Glen Murray joins Golfers on Golf Radio this Saturday in the 2017 season finale teeing off at 9 Am on AM 750 WNDZ.