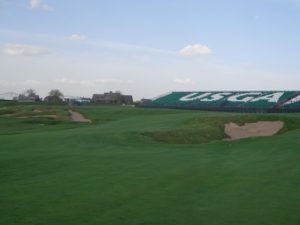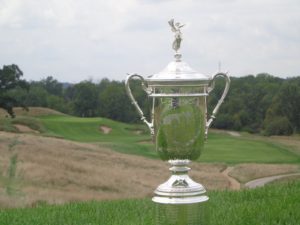 THE 18TH HOLE AND THE TROPHY NOW IN SITE FOR A FEW PLAYERS AT THE 117TH US OPEN at Erin Hills. See USGA.org or USOPEN.com for more information.      _____________________________________________________________________
REPORTING FROM ERIN HILLS, IN Erin Wisconsin.
54 down and 18 holes to go, that's what several players are thinking as three rounds are in the books at Erin Hills.
For former John Deere Classic Champion Brian Harman, Sunday will be the biggest round of his life, and that is saying something.
You see for Harman, this isn't his first USGA rodeo. in 2003 Harman won the USGA Junior Championship, in 2005 he was part of the USA Walker Cup team that won at the Chicago Golf Club. A win that earned him and his teammates a trip to the White House to meet President George W. Bush in the Oval Office.
But now 12 years after his Walker Cup win, Harman has a chance to win a major championship. The US Open that it is. Harman shot a third round 5 under par 67, that gave him a one shot lead over three players and it was one of those three that stole the show.
Justin Thomas who already has a few PGA Tour wins this year under his belt, simply went and smashed Johnny Millers US Open record 63 with a 63 of his own.
Thomas shot his 63 on a par 72 course, while Miller did it on Oakmont that was set on a par 71 course. After the round was complete Miller made some comments to Golf Channel since he was on property for a sponsors event. While he congratulated Thomas, Miller said it was a great round for the Milwaukee Open. Miller says Erin Hills with it's 60 yard wide fairways, certainly isn't the 22-32 yard fairways seen at tree lined opens in the past.
2017 does seem to be the year of the kinder, gentle USGA, but with Erin Hills being a new US Open venue, the USGA has erred on the side of caution. Toss in some overnight rains to soften things up a bit, and Erin Hills doesn't have the greatest front line of defense, and these players can attack the greens.
Thomas had a short putt for eagle on 18 to make his 63, when he did the gallery went crazy and gave Thomas a well deserved standing ovation.
After a 31 on the front side, Thomas kept up his charge. A 63 at a US Open, and Thomas did have not one but two bogeys.
Brooks Koepka and Tommy Fleetwood from England are tied with Thomas one shot back of Harman. Then there is Rickie Fowler who is not dead yet, and only two shots back after a 68.
Click here to hear the interviews with both Steve Stricker and Jordan Spieth.
Both Stricker and Spieth basically declared themselves out of it, and that was before both Thomas and Harman went wild in the afternoon. Jordan Niebrugge was over par for his third round, and with Stricker right behind him for two holes in the early going, there were large galleries of Wisconsin-ites in tow. Stricker did birdie three of four holes coming in, but one late bogey didn't help after a tee shot found a bunker.
Stricker will be hoping for a great final day to make a run at a Top 10 spot which will give him a free pass into the 2018 US Open Shinnecock, but after admitting he was tied in Round 3, it's hard to believe Stricker has much in the tank for Sunday.
Zach Johnson snuck up the leader board a bit with a 68 that left him T-26 with another veteran Jim Furyk. Johnson called Saturday one of his best rounds this year, as he settles in with his PXG clubs. (more on that coming soon).
Spieth was one of the top players who made the cut. Six of the worlds Top 10 did not, including numbers 1-2-3. But after a +4 (76), he admitted he would head home and start looking for something. Hopefully after round 4 he will talk about his upcoming schedule and maybe a stop at the John Deere Classic.
8:51 is the first tee time in the morning for round 4. The leaders will tee off just before 3 PM, a way too late start, but TV does that to events like this. 32 players broke par in Round 3, a record for the US Open. If Harman wins the US Open he would be the fourth player in history to win the USGA Junior and the US Open. He would join Johnny Miller, Tiger Woods and Jordan Spieth.
THE GOG BLOG returns with a recap of the US Open on Sunday night.