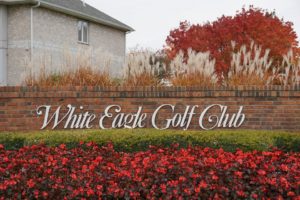 THE WHITE EAGLE GOLF CLUB IN NAPERVILLE-will be host to the 71st Illinois Open ______________________________________________________________________
THE GOG BLOG by RORY SPEARS-Director of Content and Creation for Golfers on Golf. Follow Rory on Twitter @GogBlogGuy and on LinkedIn or Facebook/Instagram.
With the Covid-19 pandemic creating havoc in society and the world of sports, the Illinois PGA Section has been forced into the scramble mode to create a schedule with tournaments for competition, for it's section members, and the top amateur players who will enter the 71st Illinois Open at the White Eagle Golf Club in Naperville.
After months of hard work and having to reshuffle the deck, the revised schedule is in place for the months ahead in 2020.
The good news is that the four major championships will still be held, but with some changes.
The Illinois Open was cut down to it's former field size of 156 players, and a two course system was reduced to one, with Stonebridge Country Club taking a mulligan to a later date in the years ahead. The PGA section championship is still on for Medinah Country Club from August 24-26.
The IPGA Match Play Championship was delayed from May at the Kemper Lakes Golf Club, to September 15-18 at the Elgin Country Club, with a new format of stroke play that determines the final 64 players that move into the match play brackets.
The seasons final major the IPGA Players Championship will be contested from October 5-6, and remain at Conway Farms. But will have a field of 35 players, by invitation only from the standings of the Bernardi Player of the Year points race.
"We worked diligently over the past few months with our Board, Officers and Tournament Committee to develop a tournament schedule that was both safe for participants while preserving the Major Championships and other key events," said Carrie Williams, Executive Director of the Illinois PGA and Illinois PGA Foundation. "We'd like to thank all of the Illinois PGA Professionals and facilities for their dedication and flexibility to help us create our new 2020 tournament schedule."
The Illinois PGA Assistant Professional Championship (Monday July 13 Cress Creek) and IPGA Senior Professional Championship (Merit Club August 10-11) will serve as national qualifiers.
Unfortunately the following events were cancelled for 2020. The Pro-Pro-Pro Scramble, the Spring-Fall Pro-Assistant IPGA Senior Stroke Plays 1-2-3-4. IPGA Assistant Stroke Play Events 1-2. The Radix Cup, Thompson Cup and Royal Cup Matches. IPGA 1-Day Pro-Am (both). IPGA Senior Masters IPGA Sroke Play 6.
In October three Pro-Am's will take place. October 1st at Onwentsia the Ryne Sandberg IPGA Foundation Pro-Am. October 4-5 the IPGA Fall travel Pro-Am at Sand Valley Resort in Nekoosa Wisconsin. From October 19-21 in Pinehurst the Meyer-Brown-Miller Invitational. For further information please see IPGA.com.