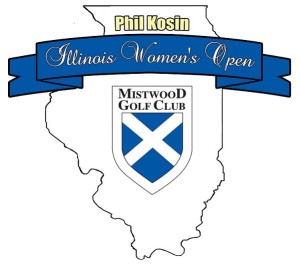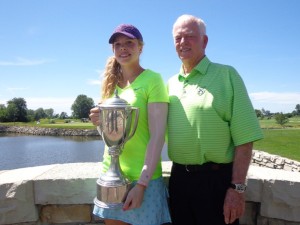 THE 22ND PHIL KOSIN ILLINOIS WOMEN'S OPEN has 36 holes in the books and with 18 holes to play, it should be another exciting finish at Mistwood Golf Club. The 2015 Champion Madasyn Petersen is not in the field, so who will replace her as the new champion golfer of 2016. To all golfers come and play Mistwood, call (815)-254-3333. ______________________________________________________________________
THE PHIL KOSIN Illinois Women's Open is down to the last 18 holes, and their are some familiar names at the top of the leader board.
Two amateurs Brooke Ferrell on the University of Wisconsin Golf team, where she will be a senior this fall, is tied with Stephanie Miller on the University of Illinois golf team where she will be a junior this fall.
Both players are at 6 under par (138) headed to the final 18 holes. Ferrell from Edgerton Wisconsin, works in the pro shop at Steve Stricker's home course, and gets some advice from the famous tour pro, while taking lessons from Stricker's Father-In-Law Dennis Tiziani. Ferrell's two round are 68-70.
Stephanie Miller is a past Illinois State champion in her high school days while playing at Stevenson High School.
Miller has been in this position before, leading after two rounds at the IWO. She lead after two rounds in 2012, and fell back in round three with a score of 80. Samantha Troyanovich won the championship in a playoff.
Miller then in high school, said after the tournament, "for the first two days I played like I can, today I played like a high school player."
During this years final round, we will see if she can play like the college player she has evolved into at Illinois. Miller carded rounds of 69-69 over the first two days.
Eight players in the field of 63 are under par after 36 holes, with no players at even par. The only past champion in the field in Wheaton's Jeana Perason who has won the championship twice. After an opening 71, Pearson fell back with a 74 and sits 7 back.
The other players under par include Lexi Harkins from Crystal Lake tied for third place, 3 shots back at 143 with Kelli Grassel of Chesterton Indiana. Northwestern University's Hanna Kim is in 5th place at 2 under par, after a second round 68 that put her back in contention.
Naperville's Bing Singhsumalee, was the early leader in the clubhouse after an even par round left her at -1. Tied with Singsumalee is Taylor Thompson of Galesburg, Ember Schuldt of Sterling.
Lindsay Dodovich of Chicago is the still the leader in the "shot of the tournament " category, Dodovich made a hole-in-one in Round 1 on the Par 3, 17th hole. 160 yards with a 7-Iron.
32 players have made the cut for the final round on Wednesday, players will start off the first tee at 7 AM, with the final group with the leaders teeing off at 9:15.
Click here to hear the interviews with co-leaders Stephanie Miller and Brooke Ferrell.
Admission and parking are free, the public is invited and welcome to attend. For more information see the Mistwood website at Mistwoodgc.com or call (815)-254-3333.