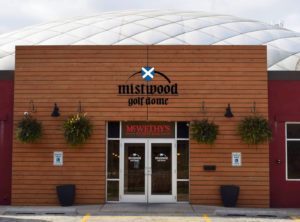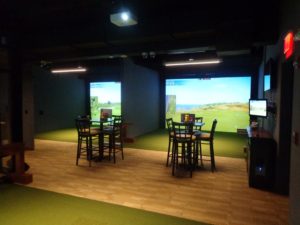 GOLF SEASON DOESN'T END HERE IN CHICAGO, now it just moves indoors. The Mistwood Golf Dome is open for winter golf season, and is now complete with the state of the art Toptracer Technology that's found at Top Golf. It's the only Dome in America that has it, so visit Mistwood Golf Dome and see what all the excitement is about. The Mistwood Golf Dome (formerly McQ's) is now complete with an updated McWethy's Sports Bar, and the OTB is still spinning out of the turn. Mistwoodgolfdome.com or call the dome at (630)-739-7600 located on Rt. 53 in Bolingbrook. Hours through the end of December, opening weekdays at 9 AM and at 7 Am on the weekends. #toptracergolf. THE SCHAUMBURG GOLF CLUB is upgraded it's course list for the indoor golf season that's upon us. Play your favorite golf partners in a Ryder Cup style match when you tee it up on 2018 Ryder Cup venue, Le Golf National or 2020 Ryder Cup site Whistling Straits. The Schaumburg Golf Club is located at 401 N. Roselle Road just minutes from Woodfield Mall. See Schaumburggolf.com or call the club (847)-885-9000 #golfallyear
SCHAUMBURG GOLF CLUB GM Jon Parsons talks about indoor golf season at SGC.
ARE YOU READY FOR THIS SEASON and if not, visit our sponsors above. The good news is that there is no snow in Pinehurst right now, and the resort has great deals to come down and play the recently redone Pinehurst #4 by Gil Hanse.
More good Pinehurst news is that the new Pinehurst Village brewery is open and in it's first 30 days, it has become a hot spot. More details on our upcoming whats new at Pinehurst feature coming soon.
CALLAWAY GOLF has re-launched it's BIG BERTHA Irons for 2019, you can pre-order on November 30th, the clubs will be in retails stores on Jan. 18th of 2019. Callaway is running a limited sale price on it's Chrome Soft and Chrome Soft X golf balls, visit Callawaygolf.com for details. Callaway Golf is congratulating it's staff player Aaron Wise for being the PGA Tour rookie of the year, Wise was runner-up in the 2015 Western Amateur at Rich Harvest Farms, before turning professional.
Woodland Country Club has been named as the host for the 2019 Women's Western Golf Association 93rd National Junior Golf Championship.
Woodland located in Carmel Indiana, will host this event for the second time, having previously hosted the tournament in 1969, when it was won by Mary Jane Fassinger. The dates of the 2019 championship are from June 16-20.
This marks the first time the Western Golf Association will conduct the event in conjunction with the WWGA. The course was designed by golf architect Bill Diddel and opened for play in 1956. HOF architect Pete Dye did a recreation of the original layout in 2002.
"Woodland Country Club is a great partner of the Western Golf Association, and we're elated to have it as our host for the Women's Western Junior," said Vince Pellegrino, WGA senior vice president of tournaments. "This tournament will attract the best junior golfers in the country, and the course layout will provide an excellent championship atmosphere."
Contestants must be 18 years of age or younger, and must carry a handicap of 14.4 or lower. The first 36 holes are stroke play, which will determine the 16 match play qualifiers. Janice Kim won the championship this summer. Notable past championships include Christie Kerr (1994), Grace Park (1993) and Nancy Lopez (1972-74). Visit WWGA.org for more details on the tournament.
THE SPORTS TURF MANAGERS ASSOCIATION that has more than 2,700 professionals has kicked-off it's sixth annual "Mowing Patterns Contest."  Entries are being submitted on Facebook through tomorrow Nov. 16th, and the general public can vote on Facebook for the winning design from November 17-23. The winner will be announced on Nov. 26th.
GLOVE IT a golf industry leader in women's golf products, has announced it line for 2019. The 2019 line includes 10 new styles with a combination of vibrant prints and some bold new colors. Golf bags for walkers, cart riders, along with head covers,gloves, shoe bags, visors, sports towels, and accessories for tennis are now available. The Scottsdale based Glove It is a two-time winner of Best New Products at the PGA Merchandise show. For a look at the 2019 line visit Gloveit.com or call (480)-968-2021.
ROUND ONE IS UNDERWAY for the PGA National Assistant Professional Championship, in Port St. Lucie FL.
The Illinois PGA Section has four of it's assistants competing this week on the Wanamaker Golf Course at PGA Village.
Andy Mickelson of Mistwood is the leader in the clubhouse after Round 1 for the IPGA professionals. Mickelson shot a 3 under par 69 and is in 8th place overall. Kyle English of Crestwicke CC in Bloomington was sitting T-15 at Even par with Jeff Kellen from the Mauh-Nah-See-Tee Club in Rockford. Chris French from Aldeen Club in Rockford was at +1 with a score of 73, and was T-22 with some players still on the golf course.
THE WASHINGTON STATE Golf Association that represents over 675 clubs and some 70,000+ golfers from around the state, will now be working with the Buffalo Agency to help improve it's branding and website. Buffalo Agency has helped with improvements for the Massachusetts Golf Association and the First Green, with the Colorado Golf Association. More details at thewsga.org or by calling 206-526-8605.
MORE FROM WASHINGTON… Chambers Bay home of the 2015 U.S. Open and the 2010 U.S.Amateur shut down early this fall, and is closed until spring of 2019, as all the greens will get totally redone. Gamble Sands a destination in central Washington is having David McLay-Kidd, who designed the first course, design the properties second course that could open in late 2019.
Kidd's work at Gamble Sands earned him the support of Mike Keiser, who then hired Kidd to build the award winning Mammoth Dunes at Keiser's Sand Valley Resort in Nekoosa Wisconsin. Sandvalley.com.
HAPPY HOLIDAYS from everyone at Destination Kohler.
Do you need a winter getaway, for a few relaxing nights, with all the comforts of home.
How about all the comfort of the American Club, the Inn on Woodlake, a suite in the Carriage House, a visit to the 2020 Ryder Cup Shop.
How about some me time in the very relaxing Kohler Fresh Waters Spa.
You can plan golf for the 2019 season now, order gifts cards and more. Call Kohler at (888)-293-7337. Destinationkohler.com.
THE 2018 JOHN DEERE CLASSIC has raised a record $13.45 million dollars for local and regional Quad Cities charities.
This new record breaks the record of one-year ago by an increase of $1.18 million dollars.
The John Deere Classic has now raised more than $107 since the championship started in 1971, since John Deere took over sponsorship of the tournament in 1998, that figure is over $104 million of that $107 million dollar figure. 534 deserving charities received a check from the JDC. The JDC has the largest per capita contributions of any PGA Tour event based on the Quad Cites 375,000 residents. For details on Birdies for Charity, and the 2019 John Deere Classic please see Johndeereclassic.com.
MORE GOG BLOG NEWS COLUMNS ARE COMING in the days ahead. RS