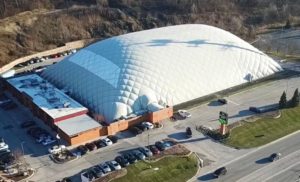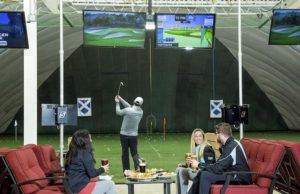 ARE YOU ENJOYING THE MISTWOOD GOLF DOME THIS WINTER. Outdoor golf season will be here before you know it and you need to be ready. The Mistwood Golf Club professional staff is ready with lessons, or club fittings when your ready to upgrade your game. Mistwood Golf Dome is home to Toptracer Golf and McWethy's Sportsbar. Visit Mistwoodgolfdome.com to see the special events. (630)-739-7600 #inBolingbrook   _____________________________________________________________________
55 DEGREES TODAY-YES the snow is melting away.
While winter is expected to return later this week, February is winding down and the Chicago Golf Show is next weekend.
BUT PARS UNDER THE STARS is coming up on Friday May 8th at Foxford Hills in Cary. Did you ever want to play night golf ? Well for $75 or $300 a foursome you can. Great Italian dinner options for part of your fee.
Call Foxford Hills to sign up at (847)-639-0400. Event runs from 5 Pm to 10 Pm. In case of rain golfers get a 9-hole rain check to be used by October 31-2020.
IT's NOT TOO LATE-Schaumburg Golf Club has golf and hockey this afternoon at 2 Pm. The Blackhawks and Dallas Stars while you golf in the simulators and enjoy food and beverage from Chandlers Chop House upstairs, call the pro shop for the special at (847)-885-9000. Schaumburggolf.com 401 N. Roselle Road in Schaumburg.
Honma Golf has announced a premier club fitting experience across North America.
Honma Golf has fitting locations now at Reunion Resort & Golf Club in Orlando Florida, and the Ko Olina Golf Club on Oahu, in Hawaii.
The Honma Golf Performance Project, in Victoria British Columbia Canada. The Honma Mobile Experience is now reaching 13 markets in the east-west and southeast part of the country. No word yet on a visit to the Chicago area. For more information on Honma Golf see Honmagolf.com or call (877)-476-4653.
Willowbrook based Club Champion hit the 100,000 appointment mark in 2019 says Club Champion.
""We had a great year in terms of growth," said Nick Sherburne, Club Champion founder. "We added two dozen new stores, over 70 new employees and of course our appointment and revenue numbers grew alongside those other successes."
Club Champion offers "Tour Level" fittings like no-other. "We offer a service that every serious golf can benefit from," said Sherburne. "Our business model works because the service works-we can show measurable improvements for our customers, and that translates to happy golfers and a higher demand for what we do."
Each Club Champion store does between 500-1500 fittings per year, and some stores surpass that number.
Club Champion had only eight locations in 2014, now in 2020 they have 70.
"By 2015 we had proven our new store concept as well as the ability to open multiple locations in a market. So it was time to grow at a national level. So we have been opening new locations at an accelerated pace," says CEO Joe Lee.
The normal Club Champion studio includes at least 3,000 square feet of space, with a minimum of two fitting bays equipped with TrackMan launch monitors, a SAM PuttLab, a build shop, with an extensive equipment wall that includes more choices that any other retail golf store chain. Lee says the "shaft wall + our fitters is where the magic happens."
Need more distance, studies show that Club Champion fitted clubs have added 21 yards off the tee, or 15 yards with Irons. For more details see Clubchampiongolf.com.
JOLIET CC TO CLOSE… Yes it's true, after 114 years the Joliet Country Club is closing down. As of now the land will be used to build a new warehousing area. It's not what anyone seemed to want, including village officials. But for now that is the plan. Stay tuned, maybe somehow over the months ahead a plan to save the club can happen. But those odds currently seem to be long ones.
Galvin Green has announced it's new waterproof Apollo jackets, are the headliners of the Glavin Green 2020 Collection.
The Apollo is the first model that has been designed with the new GORE-TEX Paclite Technology.
This lightweight stretch fabric, allows golfers to wear 100% waterproof jackets, without restrictions that golfers don't like to have interfering with their swing.
Two years in the works to create, Apollo made sure the addition of pockets did not interfere with a golfers swing, weighs just 300g. The Apollo fits nicely in your golf bag, and sizes run from Small to 3XL. For more information and ordering options, please see Glavingreen.com.
KNUTH GOLF INTRODUCES HIGH HEAT 257+ at PGA Show. Knuth Golf introduced High Heat 257+ at the recent PGA Merchandise Show. The new model has what's called Turf Glider Sole Technology (TGS) on the sole of the fairway woods 3,5,7, and Hybrids 3,4,5,6 and 7. This allows amateurs to get the ball airborne and creates more distance, even from tough lies or divots. Reviews from various media outlets have all been extremely positive. More information at knuthgolf.com
The Gog Blog Speaks Out returns tomorrow. RS