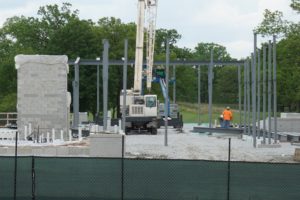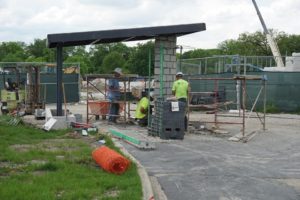 THE NEW CLUBHOUSE at the Preserve at Oak Meadows is coming out of the ground, and the new starter shack and bag drop are also being built. See DuPagegolf.com         _____________________________________________________________________
GOING DARK OR GOING SMALL, that seems to be the approach this summer when it comes to golf tournaments.
No sooner than Len Ziehm and I finished the podcast last week, and posted it. 2 hours later the John Deere Classic announced it was cancelled for 2020. It would go dark for the year, except for it's outstanding charity wing, Birdies for Charity.
Without the tournament, BFC might only raise half the amount they did last year which was over $13 million. More than 500 charities benefit from golf in the Quad Cities area. The quick thought after the cancelling notice appeared from the JDC, was to blame Illinois and Governor J.B. Pritzker for telling the classic they would have to operate with handcuffs on. But that was not the case at all.
A special thanks to tournament director Clair Peterson for taking our call the next day about the logistics on what really happened. It's nice when the face of the organization actually picks up the phone and speaks during these Covid-19 times, something that isn't happening often enough.
Peterson broke down what the expectations of the PGA Tour are these days, which is something that really had not been published, in what they consider safe to currently hold a PGA Tour event.
When hearing about the hand the JDC and Peterson were dealt, you have to wonder how any tournament can currently hold a tour stop.
What's even more confusing, is how our second tour in event in town, the BMW Championship, scheduled for late August at Olympia Fields will be able to operate. Good luck to BMW and the Western Golf Association (WGA).
Peterson said the JDC had a list of things that had to happen in order to play, "but we just couldn't check all the boxes." I'm not sure how he could have done that. So the 50th Anniversary of PGA Tour golf in the Quad Cities will have to wait til' next year. But in Illinois when it comes to sports, we are all good at doing that anyway.
THE ILLINOIS OPEN will be played from August 3-5, says IL. PGA Executive Director Carrie Williams. That's the good news. The bad news is that field is down to 156 from over 250 players, all play for three rounds will take place at the White Eagle Golf Club. The second course, Stonebridge Country Club will have to wait for another year to be part of the championship. Which is too bad, because White Eagle and Stonebridge make a great combination for a tournament like the Illinois Open.
Qualifiers for the championship have been reduced down to only four, but that should be enough to get the field full of the players who deserve to be there. Golfers on Golf will attempt to reach Carrie Williams for comment during the week, or live on Golfers on Golf Radio this Saturday morning.
The U.S. Open will work with a smaller field at Winged Foot this September, 144 as opposed to 156, due to a shorter window for daylight in September than in June.
OUR CONDOLENCES from everyone at Golfers on Golf to all the friends and family of local golf trick-shot artist Peter Longo, who passed away over the weekend. Longo suffered a stroke earlier this year and was in rehab, trying to come back from the stroke.
I'll have more through out the week, as Illinois golf courses are starting to reopen with less Covid-19 restrictions. Stay safe, stay healthy and Go Play. RS.