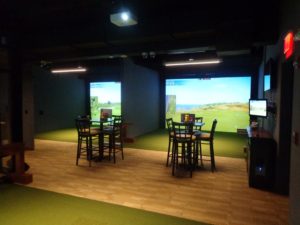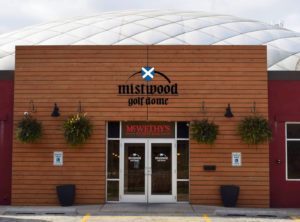 THE SCHAUMBURG GOLF CLUB on Roselle Road in Schaumburg has it's simulators open on a rainy day like today. Call for a tee time at (847)-885-9000 be ready for the coming of the outdoor golf season. THE MISTWOOD GOLF DOME on Rt. 53 in Bolingbrook is open daily until 10 pm, check out Mistwoodgolfdome.com on the upcoming indoor tournament to be played on Toptracer. Beat the rain by beating some balls today at the Mistwood Golf Dome. Visit McWethys Sportsbar in the dome #NCAA   _____________________________________________________________________
THE 2019 PGA MERCHANDISE show in Orlando Florida wrapped up in January, but our coverage of the event and stories from the show wraps up here, with a final review of the launch in golf for 2019.
There will still be a few features about properties that were visited during the trip over the next couple of weeks, so stay clicked in for those.
The PGA Merchandise show brings out the best and in some cases, below average products that you can just tell golfers won't ever warm up to, but if you have the bucks and want to spend for booth, good right ahead. Those who run the show will take your money and provide space on the convention center floor.
Over 40,000 PGA professionals and industry people were expected for the show, due to extreme weather up north some people were not able fly out, and our estimated attendance was a little bit south of the 40,000 number. But there were more than 7,500 PGA professionals and industry experts from all 50 states and 89 countries attended. Over 1,000 companies were present, and over 200 of them were new to the show. If you think there isn't much interest in golf, guess again. The number of media in attendance was around 1,000, which means there is a story to tell or be stories to be told.
The show always has some interesting finds, some come from the latest lines of new equipment, to the apparel that you wear. It can be new golf balls, bags, shoes, caps, or other accessories. Maybe it's the items that are needed for your golf course, and the events it will host in the year ahead.
With all of that in minds, here are our Top 10 finds from the 2019 PGA Merchandise Show.
10. The product line from Zero Friction that has put together it's 4-Pack tubes of golf balls, gloves and tee packages. One-stop shopping when needed, and Zero Friction's line of gloves gets stronger every year.
9. Another yet improved Titleist Pro V1 and Pro V1x golf balls It's amazing how Titleist keeps making a good ball, even better.
8.The new drivers from Tour Edge that make the Exotics line, they are getting stroner every year, and now making an impact with top players from the PGA Champions Tour.
7. The New Balance line of golf shoes. once known to be just a running shoe, New Balance is making major strides in improving it's line of golf shoes. Plus new additions from other shoe lines, such as Callaway, FootJoy and Adidas. Walking around a golf course has never been easier on your feet.
6. The addition of stronger non-reflective colors on the faces of golf clubs. Are you tired of getting a sun reflection off the surfaces of your clubs on sunny days. Ned colors that help reduce the sigh of wear patterns. Try dark blue, or black in your favorite clubs.
5. The color is back in golf wear. Greg Norman's line of golf shirts brings back coloring the line was missing the last few years. Refreshing looks for hot summer days.
4. the impact that Topgolf is having on the golf industry. Whether it's a new Topgolf facility, or the idea of adding Toptracer to your facility. Topgolf is growing and here to stay in today world of golf.
3. Antigua, while there are numerous apparel makers in the golf world, Antigua stands out with it's additions and changes in colors, styles and feel. Whether it's golf, or golf style shirts with logo's of your favorite sports teams or colleges. You can't go wrong with Antigua.
2. Wilson Golf is really coming on strong. The new line of D7 Irons along with the released late in 2018 Cortex Driver, are clubs every golfer should look at before picking out a new set for the season ahead.
1. Callaway's Epic Flash Driver and fairway woods. These are game changer products that are making a difference on tour, and for every day golfers. The Flash Barry Allen would love them, you will too. Callaway's improvements in irons, wedges, putters and golf balls are solid. Callaway and how they grow as a company in 2019 will be fun to watch.
The 2020 PGA Merchandise Show is Jan. 21-24. Golfers on Golf will be there.