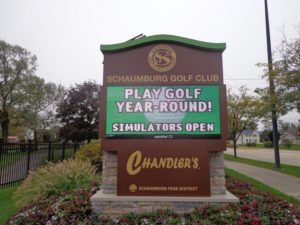 The Schaumburg Golf Club is open year round for golf. During the current winter season, the simulators in the lower-level of the clubhouse bring you the chance to play courses like next months Players Championship Course TPC Sawgrass. Be ready for the outdoor season, by teeing it up in the indoor season. Schaumburg golf Club is located at 401 N. Roselle Road, visit Schaumburggolf.com or call (847)-885-9000. #golf ______________________________________________________________________
2020 it is coming faster than we think, and will be a big year for golf.
Whistling Straits part of the American Club will host the Ryder Cup in late September, along the shores of lake Michigan.
The USA needs a win after the debacle in France last year. Wednesday morning at 8 AM the pieces for TEAM USA will start to come together when, Steve Stricker will be named by the PGA of America as the Captain for Team USA in 2020.
Stricker one of the most liked players on the PGA Tour and PGA Champions Tour is expected to be a popular choice, and his style is expected to be more laid back. Stricker has been a vice-captain for several team events, such as Ryder Cups and President's Cups in recent years. Stricker being captain in his home state will be an emotional event for everyone.
This marks the first time a Team USA Captain, has not won a major championship. Stricker has been part of the group that changed the Team USA Ryder Cup approach after the 2014 disaster, where in the end, Phil Mickelson was critical of the approach by then captain Tom Watson. The press conference will be shown live on Golf Channel, and I will be there in person to cover for this site, and for Chicagoland Golf Magazine. PS…don't forget to get the first issue this weekend at the Chicago Golf Show at the Donald Stephens Convention Center in Rosemont, doors open Friday at Noon.
Former Bears Kicker Robbie Gould will be on the main stage Saturday and Sunday morning at 10 Am. Golf Trick-Shot artist Peter Longo will be on the main stage all three days at various times.
With the Chicago Golf Show being the only game in town this year, there are a large amount of golf courses and resorts that will be in attendance. Equipment Companies are among three of the hottest in golf. Callaway, Wilson and Tour Edge. The IPGA will be giving out free lessons again this year, and other booths will have prizes including the French Lick Resort. Get tickets-Chicagogolfshow.com I'll see you there starting on Friday.
A FEW OTHER THINGS on my mind. I'm surprised at all the crazy comments on social media about the Matt Kuchar and his caddie deal. If you haven't heard the story, well go look it up because I'm not ready to explain it again. But Matt Kuchar doesn't owe the caddie any more money than he agreed to pay him up front. I don't care how much Kuchar got for winning the tournament. Kuchar is a great guy, and let's leave it that way.
JB HOLMES wins at Riviera, but takes heat from announcers about his pace of play. JB is a another good guy, but he along with several other guys who need to pick up their pace of play. Maybe some officials need to say, that's two, and things would change. A great story from the University of Illinois Invitational at Olympia Fields a few years back, players were warned about slow play before the tournament started. It was a weekend where the clocks were being turned back and players needed to keep it moving or run out of daylight. Day 1 four kids were penalized for slow play, last two rounds, nobody got a penalty.
I WENT TO THE MISTWOOD GOLF DOME on Saturday and hit the new Epic Flash Driver and Epic Flash fairway metals. If you have a need for speed, wow. Is all I can say, the ball jumps off the club face at speeds I just haven't seen before.
In the adjoining picture Mistwood Director of Golf Andy Mickelson a great stick hits the Epic Flash Driver. The picture that is blur, is the fact my lens can't up speed wise.
But you get that kind of effect when you see the Flash and Flash fairway metals up close and watch them work.
While I think that both area companies Wilson Golf and it's new Cortex Driver, and Tour Edge and it's Exotics EXS are solid drivers. It will take some to top the Epic Flash, Callaway has created an outstanding set of metals.
IT'S GETTING OLD, seeing social media posts of Tiger with a large gallery, and all the current stars having almost nobody following them. What I did see this weekend, was someone doing that, and the truth in this case was, Woods up near the clubhouse where the hillside was packed at Riviera like always, and the pictures of other players well away from the where all the large galleries were out on a distant place on the golf course. Not a fair comparison.
IN TODAY'S MORNING READ, great piece by John Hawkins on betting Tiger Woods Masters week. If your thinking of doing that, read John's piece first.
IT'S Golf Show week. The Gog Blog Returns tomorrow. RS