The Encompass Championship at the North Shore Country Club returns this year from July 7-12, with defending champion Tom Lehman. See Encompasschampionship.com for tickets and more information. The Glenview Park District Golf Club will reopen from renovation in Mid-July, stay clicked in for details. The Mt. Prospect Golf Club is expected to reopen on August 1st, stay with the Gog Blog for details on opening day.     ______________________________________________________________________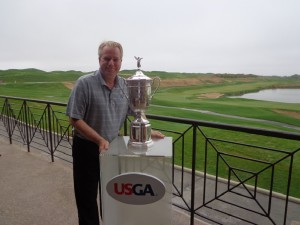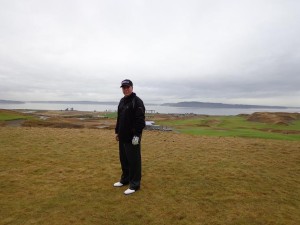 The Gog Blog by Rory Spears, Editor & Director of Content. Follow Rory on Facebook, Linkedin and Twitter @GogBlogGuy. (Left with U.S. Open Trophy & Right on the 8th hole at Chambers Bay).
It is that time of year. This week is the 115th U.S. Open from the Chambers Bay Golf Club in University Place Washington, which is near Seattle.
Martin Kaymer returns to defend his title that he won last year at Pinehurst. But is Kaymer the favorite this year? Actually I'm not sure anybody is the favorite this year, on a course most of the players haven't gotten to know until the last few days. Jordan Spieth who won the Masters, is looking forward to Part 2 of a potential Grand Slam.
I played Chambers Bay in October of 2012, the day started out hazy and a couple of rain drops fell late on the front nine. Then they started again briefly on 12, and stopped quickly while I was still on 12. Then they returned on the 15th green, and it rained harder on 16, harder on 17, and really bad on 18. I was putting through puddles on the 17th and 18th green. I would have stopped on the 18th tee box, if it wasn't 18 and or Chambers Bay a future U.S. Open course site.
My poor caddie in an effort to keep us moving and keep my clubs dry, rammed one of my irons into my Pinehurst logo'd carry bag on 16 and punctured a hole right through the front of the bag. That allowed me to have a half inch of water in the bag, by the time I got to Salish Cliffs golf course and their hotel/casino later that night. I spent the night drying out everything before I headed off to Bandon Dunes.
Bruce Charlton the head of Robert Trent Jones design team for Chambers Bay was a guest on our show last Sunday. He feels there could be holes where players might want to miss the green by 30-40 yards, so it rolls onto the green and ends up where they want to hit their next putt from. Geez, a strategy like that could play into the hands of Tiger Woods. Speaking of Woods, if he does go out and shoot 80 or higher or numbers that leave him out of contention, hopefully Fox Sports doesn't let Tiger Talk become a distraction to the tournaments big picture.
The big picture could be decided on the set up by Mike Davis the USGA Executive Director and course set up guy for the U.S. Open. Will he make holes longer, will we see some short par 4's, a par 5 that guys can hit in two with no problem. A real short Par 3, or a real long one, who knows. What about the trains that will driving the course making noise and blowing their horns, there is a military facility not far away and I heard gunfire from there for most of my round. Might those things be a factor.
With no warm up, I ran to the tee of this 7,585 yard golf course 20 minutes after pulling into the parking lot, and played it 6,956 yards. The first hole played 485 Par 4, one driver, one 5-wood and a 20 foot birdie putt had me 1 under through 1. Red numbers at the open, I loved it. My caddie right before the putt told me nobody made three on the first hole during the stroke play of the 2011 U.S. Amateur. Then I preceded to make pars on holes 2-3-4, nothing to this U.S. Open course. Bogeys on 5 and 6 brought me back down to earth, before a birdie on 7 had me back to even through seven. But the nine ends with two crazy holes that saw me make bogey-double to finish the side in 39. The Par 5th, 8th hole was redone right after I played there, and the long par 3, 9th hole 227 yards is banked like a NASCAR track and balls that miss the green spin around like on a Roulette wheel. Normally before ending up in a big front bunker. Davis ended up making changes to both 8 and 9 in late 2012 and 2013.
A bad drive led to a triple bogey 7 on the Par 4, 10th and I never really recovered and rain on the closing holes made it worse. 87 was my total for the day and I can't believe the pro's will enjoy this week all that much. The sand is quirky, it's a grayish mix that doesn't look good surround by nice green and or brown colors the rest of the course will have. What the course doesn't have is a big clubhouse, but something more like the 2-4 Building at Cog Hill. It does have steep hills, that are hard to walk or stand on. Where fans could go to see golf on the course will be limited.
So who wins, somebody who can roll with whatever crazy bounces they encounter and somebody with imagination in their short game. Phil Mickelson, yes could be his time, he will be a sentimental pick, but maybe a real good pick too. Rory McIlroy, Justin Rose and Jordan Spieth could be on the leader board as well. A leader board that could have fly-overs from Fox drones and a Foxbot in the corner of their TV screen with a golf bag over it's shoulder.
Chambers Bay is considered a pure links golf course, but I'm wondering what it will be considered on Friday night, Sunday night or maybe even Monday when the final putt drops. This open could get wild, and fun for us watching at home. Maybe not much fun for the players teeing it up.
Plenty of U.S. Open golf specials this week and Fathers Day specials this weekend. Go take advantage and Go Play. RS