THE GOG BLOG-by RORY SPEARS, Director of content and Creation. Follow Rory on Twitter @GogBlogGuy and on LinkedIn or Facebook.
JEMSEK GOLF SHUTS DOWN, following the shutdown order that was put in place by Governor J.B. Pritzker (D) on Friday, and took effect on Saturday (yesterday) the 21st.
Cog Hill closed all it's courses and it's range indefinitely, and did not announce a reopening date. Stay tuned for updates here or at Coghillgolf.com.
MORE FROM JEMSEK GOLF…as of last night, Pine Meadow in Mundelein has also closed due to the state mandate pertaining to the Corona-Virus. Clubhouse, Range and golf course are closed. A small maintenance crew is working at the course, and will escort anyone off the course if caught out playing. Pine Meadow will open again on April 7th, after the current shutdown expires. Do watch the video on the clubs website with head professional Dennis Johnsen. Johnsen makes several good points, including the fact Pine Meadow is using this time closed to aerate the golf course. So it's perfect when golfers return. This appears to be a great idea.
CALLAWAY GOLF has announced it's partnering with Cuater part of Travis Matthew on the release of it's new line of golf shoe, now available, but not available due to the shutdown from the virus in California. Additionally Cuater has a new line of golf gloves. more information through Callaway, TM and Cuater websites.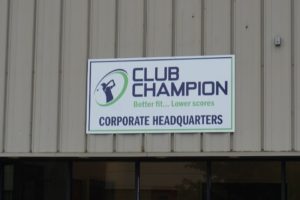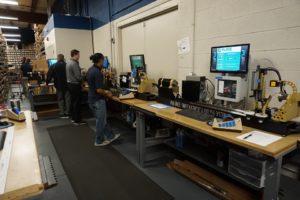 Club Champion is headquartered in Willowbrook Illinois. (R) Team members work on shafts.
Club Champion the nations largest club fitter will partner with Arccos Golf, as a result Arccos' smart grips and sensors will not be available at all of Club Champion's 70+ locations, with or without a club fitting.
Arccos will be Club Champions official on-course data partner, and Club Champion fitters will be trained and certified as experts in the Arccos Caddie performance tracking platform, that helps the golfer in a variety of game statistical categories.
"Having access to our clients, Arccos on-course shot data allows us to fully understand each player's unique golf DNA," said Nick Sherburne, Club Champion Founder. "The Data is golden. It helps golfers and our fitters better track performance while gaining an unbiased understanding of where they excel and what they need to improve. This will further solidify Club Champion as the leader in fitting and helping people get better at the game of golf."
Arccos Caddie users who played at least five rounds lowered their handicap by 4.2 strokes.
Club Champion fits and builds custom clubs with all the major manufacturers, and has been ranked among the Top 100 Best Club Fitters 10 consecutive years. For more information see Clubchampion.com.
BEN HOGAN GOLF releases ICON IRONS, a more traditional Muscle Back Blade for better players.
The Icon iron comes with many of Mr. Hogan's design principals and philosophies.
The Hogan Companies Direct-to-Consumer business option allows golfers to eliminate retail mark-up. Icon irons will be sold at $770.00 (chrome) and $800 (black) for a 7-piece set.
Scott White, CEO of the Ben Hogan Equipment Company said," Ben Hogan always had high standards, especially for his blade iron designs. We think the new ICON irons are clubs he would be very proud of." More information at Benhogangolf.com
WALLAROO HATS based in Boulder Colorado, has announced their new line called Carkela for 2020.
Perfect for Golf-Travel-Resort-Beach and poolside wearing.
Carkella is the new collection from Wallaroo, that comes with an etched metal badge, that attaches to a hidden magnet in the trim of the hat.
Wallaroo-Carkella comes with the following features, Flexi Weave, that helps keep your hat in shape no matter how it was packed. The UV-Protection Factor that protects your skin in the area's that your Carkella hat covers. The Carkella Line is washable, learn how by watching videos on the website. Comfy-Fit, and Travel Friendly.
Click here to hear our interview with Stephanie Carter of Wallaroo Hats and the Carkella Collection for 2020.
More models from Wallaroo include the Fairway, the Victoria, the Palm Beach, the Parker, and the Sydney Fedora. See Carkella.com or (303)-494-5949 or toll free at (888)-925-2766. Offices are currently closed because of the Corona Virus.
THE GOG BLOG SPEAKS OUT is back tomorrow. RS