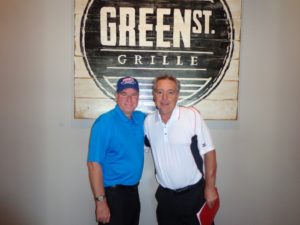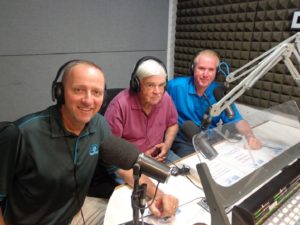 RORY SPEARS (L) WITH MIKE MUNRO at the Green Street Grille, The best 19th hole in Bensenville. IN STUDIO ED STEVENSON-BILL BERGER and RORY SPEARS (L-R)
Golfers on Golf Radio airs LIVE on Saturdays from 10:00am to 11:00am. The show is broadcast on WCPT AM-820. It is the longest running golf radio show in the Chicago area. The signal reaches an audience in parts of four states, Illinois, Indiana, Wisconsin, and Michigan.
Golfers on Golf  Radio is a show created by golfers for golfers. It's broadcast live in Chicago. We cover the major tours, including the PGA Tour, but Golfers on Golf's true focus is local golf news in the Chicago area, Illinois, and greater Midwest. Features include live interviews with individuals and personalities from throughout the world of golf. It runs in 2019 from March 30th through August 24th.
The show's founder MIKE MUNRO was the former owner of the White Pines Golf Dome in Bensenville. It's the largest dome in the Chicago area, and one of the biggest in the country. Mike can now be found at the Green Street Grille in Bensenville. He still appears on the show, when his schedules don't collide with showtime.
ED STEVENSON, the Executive Director of  the DuPage County Forest Preserve District and is a Illinois PGA golf professional. The DCFPD courses include Oak Meadows, Maple Meadows and the 9-Hole course, Green Meadows.
BILL BERGER is the third member of the foursome. Berger is a PGA Life Member and a former PGA Tour player. He can still be found giving lessons and helping Stevenson with junior golf clinics. He operates his own 19th hole, Jake's Pizza on Grand Avenue in Franklin Park.
RORY SPEARS is a long time Chicago area journalist and reporter for all sports. After growing up working at both the Rob Roy Golf Club in Prospect Hts, and at Chevy Chase Golf Club in Wheeling, Rory enjoys working the golf beat, when he is not out playing golf. He expanded this website into a golf news site, and it has grown into the area's most popular place to find golf news. Rory tries to post golf news of some fashion  here, almost every day.. He is the Director of Sales and Advertising for the ever growing Golfers on Golf brand name.