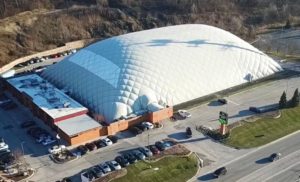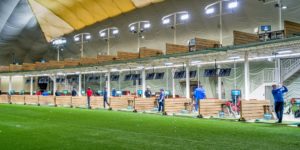 THE MISTWOOD GOLF DOME on Rt.53 in Bolingbrook is your winter home for golf. It's also the home of Toptracer range technology, and McWethy's Sportsbar. The Mistwood Golf Club professional staff is there for lessons and club fittings. To learn more about the dome and special events see, Mistwoodgolfdome.com or call (630)-739-7600. #golf  _____________________________________________________________________
THE GOG BLOG-by RORY SPEARS, Director of Content and Creation. Follow Rory on Twitter @GogBlogGuy or Facebook, LinkedIn and Instagram.
2020 IS NO DIFFERENT than the last few years, as Odyssey Golf Putters are upping their game, so you can up your game on the greens.
Odyssey/Callaway lead putter designer Austie Rollinson, is excited about the new offerings that were launched during the PGA Merchandise Show week in Orlando.
Rollinson made no secret that some of the improvements to the putter line, come directly from feedback that Odyssey is getting from their staff tour players. While Rollinson is hearing what the pro's say from Odyssey and Callaway tour representatives, Rollinson himself is getting out on tour in America and Japan to hear what the pro's like or don't like, directly from the horses mouth.
What Rollinson is hearing is that golf professionals are looking for a little more feel, a little better sound at contact, a little more stability in the shaft. In some cases that leads to weight being shifted in the club.
From the feedback Rollinson and Odyssey are getting from their touring professionals, it's leading directly to the changes you will see in putters for the year ahead.
Golfers who enjoy playing golf courses where the professionals play, will now get more options in equipment, when it comes to playing the clubs the pro's are playing on tour. The new options for 2020 include, Stroke Lab Black, in what Rollinson calls a slight variation from last years Silver and Black Stroke Lab putter line. Another option is the Triple Track Putter, that offers an extension of the colorful blue and red lines found on the Callaway ERC Soft Golf Ball.
If your looking for less color and a little less flair then the Black Stroke Lab Putter might be for you.
But what most putter designers like Rollinson, and PGA teaching professionals will tell you, is that most amateurs have real difficulty aligning putts, and getting the ball started out on the proper line to the cup. Triple Track Technology is using what's called Vernier Hyper Acuity, which is a visual technology the navy is using to land planes on aircraft carriers.
Which is where the new Triple Track putter comes in. If your playing the Callaway ERC Soft golf ball, you can now extend your alignment line even further.
The new Microhinge Star insert that is a firmer version with less grooves, of last years Microhinge White Hot. This will help with a better and more consistent forward roll on all putts.
Rollinson says the new insert is a great match, with the softer feel golf balls that more golfers are using.
If your stuck in-between all of the new options of what putter is best for you. The good news is that getting fit for a putter is now easier than ever before.
The Hole-More-Putts custom fitting board, allows golfers to putt off the face of a board that looks like an I-Pad.
It can tell if the putter you need, requires more weight in the toe, the heel, or if your stroking putts off-center.
"The Hole-More-Putts board has been really important for us," said Rollinson. "Everyone putts a little different and these days with all the options that are now available, the Hole-More-Putts board has been really successful in helping golfers find the right putter for them."
Bigger putter heads are forcing changes in the way the shafts and grips are designed. Odyssey has created a multi-material shaft that saved over 40 grams of weight, which has been moved to the head and grip end of the putter. This shift allows for the weight to be re-balanced, which leads to a better tempo and more consistent putting stroke.
New putters, especially ones with bigger heads, are all coming with larger grips. Rollinson says that, "putters with smaller heads normally have golfers using their fingers on the grip, while larger grips allow for the palms of the hands to get involved for a more steady path to the ball."
Click hear to hear the full interview with Odyssey lead putter designer Austie Rollinson.
For more information on Odyssey putters, please visit Odysseygolf.com.