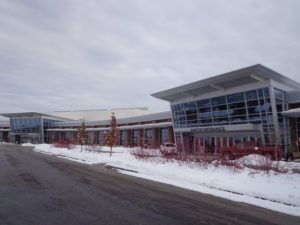 THE TINLEY PARK GOLF SHOW IS BACK-Tomorrow Friday Feb. 7th, Saturday the 8th and this Sunday the 9th of February. Admission tomorrow is only $5.00 and it's $10.00 on the weekend. Hours on Friday are Noon to 8 pm, be there when the doors open at lunch time. See Tinleyparkconventioncenter.net for weekend hours and get tickets now.  _____________________________________________________________________
AFTER A 1-YEAR ABSENCE the Tinley Park Golf Show returns, teeing off tomorrow at Noon, with a Friday only admission of just $5.00.
The equipment companies will be there, and the indoor hitting area to test out all the products has been set up.
There are contests and drawings to win free stuff, always a good thing at a golf show.
The show runs all weekend long, and if you are still there at 2 Pm on Sunday, you can win up to $500.00 in a contest. Watch the AT&T Pebble Beach with a cold one from the beverage cart.
Click here to hear the interview with Dan Fitzgerald managing director of the Tinley park Convention Center, and Brad Gray of Silver Lake Golf Club about this weekends golf show.
Chicago's first golf show of 2020 tee's off tomorrow at Noon, are you ready to hit it. Tinleyparkconventioncenter.net buy your tickets today online, and tomorrow you won't have to stand in line to get in. Weekend admission is $10.00.