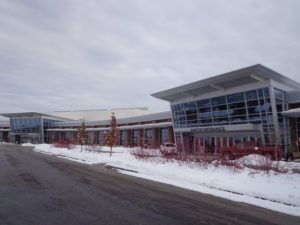 THE TINLEY PARK GOLF SHOW IS BACK-FEB 7,8,9 at the Tinley Park Convention Center. Doors open on Friday at Noon and the Friday admission is only $5.00, $10.00 on the weekends. Details on exhibitors and tickets see Tinleyparkconventioncenter.net  ______________________________________________________________________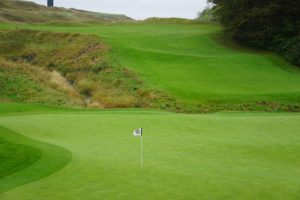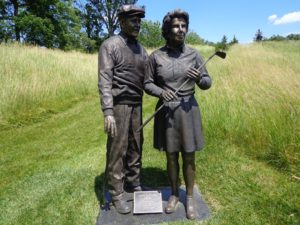 THE 18TH HOLE and green at the Pete Dye designed Whistling Straits on the shores of Lake Michigan, in Haven Wisconsin. Part of Destination Kohler and home of this years 2020 Ryder Cup (L). The Pete and Alice Dye statue at the Crooked Stick Golf Club in Carmel Indiana.
HERB KOHLER, Kohler Company Executive Chairman released the following statement on the passing or architect Pete Dye. Dye designed all four courses that make up the Destination Kohler, known as Blackwolf Run and Whistling Straits.
"Pete Dye transcended golf course design as we know it today. I am honored to have had the extraordinary opportunity to be a business colleague and personal friend of both Pete and Alice the last 30 years. We will miss them both dearly.
Pete's greatest contribution to growing the game of golf was that he considered golfers of all age and skill levels. Alice served as Pete's bedrock, and was an accomplished golfer and decorated architect in her own right.
While Pete designed to torment the most accomplished professional, his forward tees allowed the most inexperienced to play. He would challenge the professional both physically and mentally, while remarkably accommodating the raw amateur who was learning the game.
I loved this simple man and artist extraordinaire who built Kohler, without a computer, four of America's top-rated public courses that have hosted six of golf's majors for men, women, and seniors and will host golf's most renowned tournament the Ryder Cup in 2020.
He was a genius at his craft so recognized by his peers, a loveable gentleman by everyone he encountered, who enjoyed putting you off with a twinkle and a white lie. He will forever have a prominent chapter in our company's history."
Herbert Kohler on architect Pete Dye who designed the River and Meadow Valley Course at Blackwolf Run, along with Whistling Straits and the Irish Course at Whistling Straits. All part of Destination Kohler, in Wisconsin.