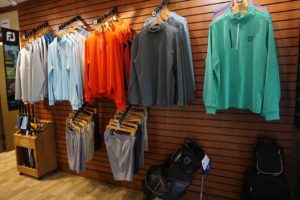 THE SCHAUMBURG GOLF CLUB at 401 North Roselle Road is getting ready for a Black Friday Sale, stay clicked in this week for details. Book your simulator tee times at (847)-885-9000. Smart Golf & Fitness has reopened at a new Chicago location, now located at 1452 West Willow Street. More details are found at Chicagogolffitness.com.    _____________________________________________________________________
YES-several courses still have the pins in, for outdoor golf. The weather might hold just enough for us die hards, that want to play outside at least one more time this year, before we head for the domes and simulators.
Check with your local pro shops and see if they are ready for outdoor play for a few more days.
The year end golf shows continue this Friday-Saturday and Sunday, at the Highwood Recreation Center, 428 Green Bay Road in Highwood. Hours are 8-6 Fri., 8-5 Sat., and 8-2 on Sunday. The sale is well worth checking out for some good deals on golf supplies.
The holiday season is upon us, and at Eagle Ridge Resort and Spa in Galena, that marks the return of Cyber Mondays.
Are you ready for great deals at Eagle Ridge, check out tomorrows deals, and then even more options on December 2nd, when yet another Cyber Monday returns.
Eagle Ridge is under new ownership, and improvements are on the way. See Eagleridge.com and visit Galena IL.
Coming this Friday, Black Friday, it's the annual Black Friday Sale at the Mistwood Golf Dome.
THE GOLF DOME, not the golf course, but at the dome 730 Bolingbrook drive on Rt 53, there will be over $50,000 worth of merchandise on sale.
That's right, quite a sale, and the the discounts will be up to 70% off.
So why not check out the Mistwood Golf Black Friday Sale at the dome, starting at 7 AM. Mistwoodgolfdome.com.
The Erin Hills Cyber Sale starts on Wednesday November 27th, with 30% off.
The sale runs through Monday December 2nd. Visit Shoperinhills.com.
There is free shipping on orders over $150.00. Use the code ERINHILLS30 at checkout, this deal will be offered in the pro shop on Monday December 2nd.
Erin Hills is already reserving tee times and overnight stays for 2020. Plan your visit today.
CALLAWAY APPAREL will have a Black Friday sale, with selected items at up to 40% off. See Callaway apparel online for more details. Callaway Golf balls $34.99 until the end of the year, see Callawaygolf.com.
THE UNIVERSITY OF ILLINOIS women's golf team and Coach Renee Slone, announce the signing Isabel Sy, to a national letter of intent (NLI) to join Illinois. Isabel is one of the top junior golf recruits in America, per multiple rating services. Sy will join the team in the fall of 2020, and currently resides in San Gabriel California. Illinois ended the fall season ranked #13 by the Women's Golf Coaches Association (WGCA).
THIS FRIDAY from 9 Am to 12 Noon at the Go For it Sports Dome in Yorkville, Chad Johansen from Blackberry Oaks GC, will host a golf clinic from 11:30 to Noon at this Grand Opening event. The dome is located on Galena Road.
THEIR LATEST PROJECT, opening on June 1st of 2020. The Sheep Ranch at Bandon Dunes, which is beingpromoted as the final course at bandon dunes.
This Bill Coore and Ben Crenshaw design under the watchful eye of Mike Keiser, will have golfers enjoying a stroll down the Pacific Ocean on the Coast of Oregon.
You can start booking your visit and round of golf at (855)-854-7623. BandonDunesGolf.com it's golf as it was meant to be. The Sheep Ranch is back.
KOHLER IS OFFERING specials on it's Lodge in Titletown-Green Bay Wisconsin, when you stay from Sunday-through-thursday nights until March 31st. DestinationKohler.com or call (844)-996-0398.
TOPGOLF set a new Guinness World Book of Records, record, with over 2,000 peopleall hitting a golf ball simultanously.
This timed event was done at several locations, on November 7th, in honor of "Get out and Swing Day."
Several reality show stars participated in the event. For more information on this special event, and Topgolf, plesse visit Topgolf.com. The new Topgolf in Schaumburg Illinois is now open for business.
THE ILLINOIS PGA has award for the second time in three years, the Don Drasler IPGA Section award for PGA Assistant professional of the year, to Chris French, from the Aldeen Golf Club in Rockford. French recently in the National PGA Assistants Championship at PGA Village in Port St. Lucie Florida, where he made the cut.
STITCH GOLF based in Apex North Carolina has released the new SL2 lightweight golf bag, it weighs only 4 pounds. For details on this full size lightweight bag, please visit Stitchgolf.com who alos makes head covers and other fine golf products.
INDI GOLF has announced a new line of putters, called the Allison and the Ramone. These custom putters are available for pre-sale at indigolfclubs.com. The MSRP is $449.99 and during pre-sale the price is $329.99.
The Allison is a face-balanced mid-size mallet, and Ramone is, a toe-hang blade.
"After designing wedges the past few years, the putter category was the most logicial step for us in our mission to help golfers make the short game their best game," said Rob Lang, General Manager of Indi Golf. "We have been developing the technology for these putters for the last year now and we're confident they will help golfers make more putts. We are excited to finally be able to introduce them."
Allison has a double-bend shaft that creates a perfectly face-balanced putter for the player that has a straight back-straight through putting stroke. Ramone was designed with a 30-degree toe-hang, that is ideal for a player that favors an arced putting stroke.
MyrtleBeach Golf Trips.com and MBN.com leading package providers, are currently offering golfers 50% off spring tee times when purchasing a three-round package during the Black Friday Sale.
This holiday sale has started and runs through Dec. 2, golfers can purchase tee times at any of the Founders Group International's 21 courses for 50% percent off of time from March 1 to June 7, tee timesare before 8:30 Am and after 1 Pm.
BGT Breakthrough Golf Technology-Stability Putter Shaft is a shaft that uses scientifically designed multi-materials with geometries that have not been used in putters shafts previously. The shaft creates a solid feelthat's not found in putters with traditional shafts. Stability Armlock Putter Shaft, learn more at Breakthroughgolftec.com.
GolfLogix is a game improvement app, that has now released a new Putt Line option.
This app gives the golfer the a read for distance, and insight on your line. Putt Line takes the guessing out of trying to read a putt.
It comes in handy on all putts, but putts that have little or a hidden break. This app gives golfers a better chance of making putts, on greens that the golfer has not played or seen before. And don't forget the GolfLogix Apple Watch, that gives golfers exact yardages, green images, scroe tracking, and hole selection. The new app is compatible with a series 3 and 4 Apple Watches.
The Gog Blog returns this week, with the Gog Blog Speaks Out.