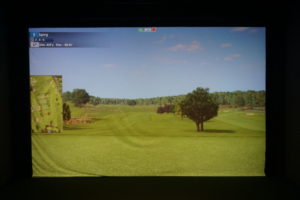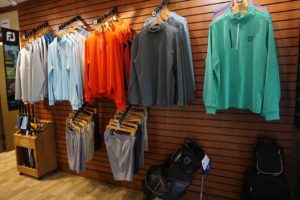 SINCE IT'S A LITTLE COOL FOR OUTDOOR GOLF TODAY-take your golf inside at the Schaumburg Golf Club 401 N. Roselle Road. Simulators are now open with new golf courses like the newly added Bethpage Black (L). You win awards for your pro shop merchandise when you have selections like this. Holiday shopping season is almost upon us, see long sleeve options now available. Schaumburggolf.com (847)-885-9000.  _____________________________________________________________________
TURN ON THE LIGHTS-THE PARTY HAS STARTED.
Wednesday night the party started at the new Schaumburg Topgolf, that will be managed by GM Brett Hintz. It opens on Friday November 15th.
One only had to be the parking lot, to hear the upbeat music, that brought the energy to this new fun golf venue.
So there is no snoozy or elevator music at Topgolf, there is a feeling of lets get to it. Tasty Blueberry Mush cocktails were flowing, the food was getting sampled, and the golf balls were flying. It was a night where sleet started mixing in the air, with a cross-wind that made hitting the target bays a little bit harder. But you could check your results, as you reviewed your Toptracer screen.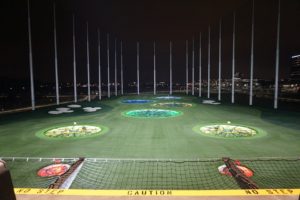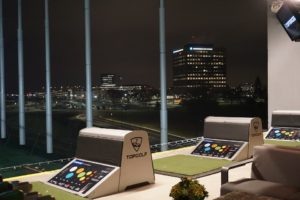 THE TOPGOLF RANGE lights up for opening night in Schaumburg, on the campus of the former Motorola Communications, and now called Motorola Solutions.
Topgolf is not new to the Chicago area. In fact it's been around for 12 years, in both Wood Dale and Naperville. But that will change according to Topgolf CEO, Dolf Berle.
"Topgolf values the relationships we have built in the Greater Chicago community over the past 12 years," said Berle. "We look forward to bringing an upgraded and modernized experience to Schaumburg, further connecting the local community in meaningful ways. Our experienced hourly Associates from Wood Dale, will be joining the Topgolf Schaumburg team. They will continue providing the hospitality and service, the community has grown to know and love."
Over the next several months, the Wood Dale Park District that is in chagre of the communites recreational facilities, will convert Topgolf Wood Dale into a traditional driving range powered by Topgolf's Toptracer technology. Toptracer Range gives driving ranges the real-time data to help players at all skill levels improve their game, with the same advanced ball-tracing technology that has revolutionized the way viewers view shots during tournaments on television.
Currently Topgolf has 60+ venues worldwide, and has now announced plans to open more venues through Europe over the next few years.
Click here to listen to our interview with Topgolf Regional Marketing Manager Chelsie Polifka.
Because the three level facility comes complete with climate controled hitting bays, it can be used year-round.
The 5,000 sqaure-foot outdoor patio and venue, has plenty of space for corporate and social events. Topgolf is located alongside of Interstate-90 at Meacham Road. And there are over 250 large high-definition flat screen televisions, three bars, and 3,000 square feet of private event space. So while Schaumburg is the newest Chicago area location, it might not be last.