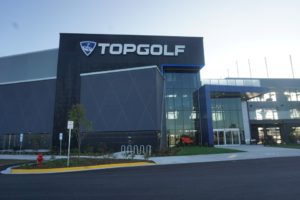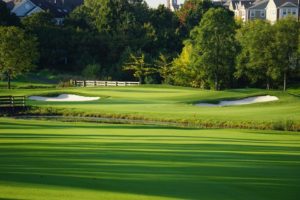 TOPGOLF SCHAUMBURG is preparing to open-more details coming soon right here. THE SCHAUMBURG GOLF CLUB is open today for outdoor golf. So is the range and the indoor simulators. Details at Schaumburggolf.com or the pro shop (847)-885-9000.   _____________________________________________________________________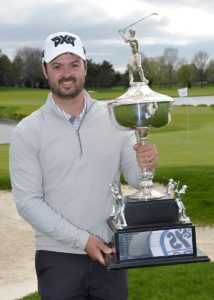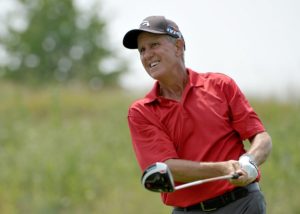 GARRETT CHAUSSARD with the IPGA Match Play Trophy (L)-(R) ROY BIANCALANA hits from the fairway (R). The 2019 IPGA Player and Senior Player of the year award winners.
THE GOG BLOG-by RORY SPEARS, Director of Content and Creation. Follow Rory on Twitter @GogBlogGuy and on Facebook and Linkedin.
Garrett Chaussard of Skokie Country Club is the 2019 Illinois PGA Section Player of the Year Bernardi Award winner. Roy Biancalana from the St. Andrews Golf & Country Club, wins the 2019 Errie Ball Senior Player of the Year award.
For Chaussard it's his time winning the award, for Biancalana it's his second win, after receiving the award in 2018.
"We have some very elite players in the Illinois Section," said Carrie Williams, Executive Director of the Illinois PGA Section. "The Player of the Year races are always fun to watch as they unfold throughout the course of the season. Garrett and Roy showcased some great golf this season and performed well at major events. We congratulate both of them on this outstanding achievement."
Chaussard finsihed in the Top-10 of all 8 events he played in this past season, which included three wins. His biggest victory was going back-to-back in the season's first IPGA major championship, the Match Play Championship at Kemper Lakes Golf Club. He was T-9th at the Illinois Open and 2nd at the IPGA Section Championship, falling only to final round partner Travis Johns. That second place finish earned him a place in the 53rd PGA (Club) Professional Championship in 2020, at Barton Creek Resort and Spa in Austin Texas.
Biancalana had four wins in 2019, a second place finish and seven Top-10's in IPGA Senior tournaments. Biancalana finished second at the IPGA Senior Section Championship, which earned him a place in the 2019 Senior PGA (Club) Professional Championship played at Barton Creek in Texas. His T-22 finish earned him a place in the 2020 Senior PGA Championship, at Harbor Shores Golf Club in Beton Harbor Michigan. His low round of the year in section play, was a 64 at Kishwaukee Country Club. During Senior Stroke Play #4.
Golfers on Golf congratulates both players on their respective seasons. And wishes them well at upcoming IPGA events, and or national events they have qualified to be part of the field.