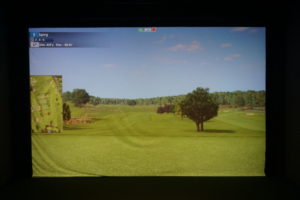 THE NEW PUTTING GREEN BY THE BAER 9 IS CLOSED-but today with the sun out and temperautes in the low 50's, the outdoor range is open on the mats. Indoors the simulators are open, how about a round on Bethpage Black on Long Island. Home of the 2019 PGA Championship. Details at Schaumburggolf.com or call (847)-885-9000.     _____________________________________________________________________
IT'S NOT OVER, outdoor golf season is still happening. So don't put the clubs away, at least just yet.
And it was nice to hear from more clubs that are still open in the last 48 hours. I did see quite a few golfers out playing Arlington Lakes today when I drove past. Glendale Lakes had some golfers out on the course as well.
Congratulations goes to IL PGA Section members, Garrett Chaussard of Skokie Country Club, and Roy Biancalana from the St. Andrews Country Club. Chaussard and Biancalana were named IPGA Players of the Year for 2019. Full details to follow this week.
SPEAKING OF THE IPGA, a total of 52 section members combined in two locations to raise over $400,000 in this years Birdies for Charity event September 3rd, at River Forest Country Club in Elmhurst. The nine year total of contributions now total's $1.96 million dollars.
The charities involved are the Ann & Robert Lurie Childrens Hospital of Chicago, JDRF Illinois Chapter, Ronald McDonald House of Chicagoland and Northwest Indiana, Crisis Nursery (Urbana), OSF Childrens Hospital of Illinois in Peoria and the Illinois PGA Foundation. The American Ling Association and the Loyola University Medical Center Burn Unit also received contributions.
Andy Mickelson Director of Golf at the Mistwood Golf Club in Romeoville, paced the field with 43 birdies. The CIPGA section was led by Kyle English of Crestwicke CC and Nick Taute of Southside CC with 38 birdies.
The Birdies for Charity event started in 2011, as Medinah CC teaching professional Travis Johns brought the idea with him from Texas. When Johns moved to the Illinois PGA Section. Great job by all the PGA professionals involved. #golfgivesback
WILSON GOLF and the KIDS GOLF FOUNDATION have created a partnership that has Wilson Golf providing clubs at the KGF Clincis this past summer. So it's nice to see the KGF started by Jerry Rich and Rich Harvest Farms, working with Chicago based Wilson Sporting Goods/Golf, to help young kids pick up the game of golf.
CONDOLENCES to friends, and family of Daiwa Golf and Lynx Golf President John Carey, who passed away on October 25th at age 89. Carey had been fighting health issues for the past couple of years.
THE PGA of AMERICA will conduct it's annual meetings November 4-8 at the Hilton West Palm Beach and Palm Beach Convention Center. The focus of the future is front and center over these next few days.
THE PGA HALL OF FAME ceremony tee's off the start of the meetings, hosted by NBC's Jimmy Roberts. The following have been named inductees to the PGA of America's Hall of Fame Class of 2019.
DAVIS LOVE III PGA, Annika Sorenstam PGA/LPGA, Shirley Spork LPGA, Dave Marr II (deceased), Karsten Solheim (deceased), PGA Past President Derek Sprague,PGA. So in addition Barbara Nicklaus will receive the PGA Distinguished Service Award during the PGA of America Hall of Fame banquet. Her husband Jack Nicklaus won the award in 2000. They are second couple to win the award (Mark and Debi Rohlfing.
The PGA Golf Professional of the Year, is Eric Eshleman, PGA, Country Club of Birmingham (Ala.), and the Horton Smith Award will be presented to Todd Sones PGA, of Todd Sones Impact Golf-in Vernon Hills IL.
Former Seven Bridges professional and Kiawah Island Resort president Roger Warren, will receive a Legend of the PGA Award. More details at PGA.org. Golfers on Golf congratulates all the PGA of America award winners.
SPEAKING OF DAVIS LOVE III, his selection to the CBS Sports/Golf broadcasting team, has not been well received. As some of the national critics speak out. So the real question is, will Love III be afraid to speak out. Because when players don't have their "A" game, he should say so. But will he have a little Johnny Miller or Brandal Chamblee in him. If he doesn't, he should go back out on the PGA Champions Tour.