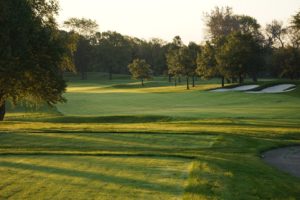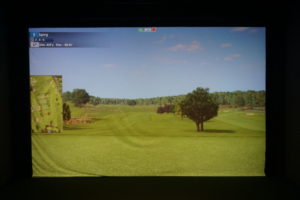 OUTSIDE & INSIDE getting better, at the Schaumburg Golf Club. (L) The final phase of the renovation, on the Tournament Nine is taking shape. (R) The newly added Bethpage Black, now on the simulators in the clubhouse. Schaumburggolf.com (847)-885-9000.     ____________________________________________________________________
OUTDOOR GOLF SEASON is NOT over. Golfers on Golf has received notices from White Deer Run and Chapel Hill that they are open today and Monday. Just in-Bittersweet GC is open.
Call the pro shops for tee times, it could be more enjoyable than watching the Bears game.
TWIN ORCHARD CC, will be having a year end merchandise sale Nov. 21-22-23. Hours 10-8 Thursday and Friday, 10-4 on Saturday. The club is located on Old McHenry Road in Long Grove. Sales of up to 50% off on all types of golf merchandise.
COG HILL has closed Course #4 for the season. But Course #2 is open until years end, with courses 1 & 3 open year round.
Winter hours have kicked in at Cog Hill, opening at 7 Pm, and closing about dark (4-5) everyday.
Year End tournaments include the Black Friday Classic on November 29th, Frosty 3-Club Open Dec. 15th. And yes what you have all been waiting for, The Eskimo Open on Jan 5th, 2020. Registration starts on December 15th. PRO SHOP SALES are all month, BUT Black Friday gift cards deals are back, Buy $1,000 and get $275 more. SATURDAY November 30th, the Annual Holiday Open House, with raffles hors d'oeuvres, free gift wrapping and more. (866)-264-4455 or see Coghillgolf.com
JEMSEK GOLF UP NORTH- at Pine Meadow Golf Club in Mundelein. There is a sale on Bob Vokey Titleist wedges, at their best prices so far. So if your in the hunt for new wedges, PMGC is the place.
The clubhouse building got new siding recently as a fall improvement. But even better news, is that Pine Meadow has been selected to host a U.S. Open qualifier on May 11th next year. Then the Illinois Women's Amateur returns from June 23-25. Spectators are welcome. Visit Pinemeadowgc.com or (847)-566-4653.
NO GOLF BUT-The Murder Mystery Dinner at the American Club in Kohler, is Saturday December 7th at 6:30 PM. visit Destinationkohler.com for details #homeofrydercup2020
MAYBE GOLF if the weather holds up with out snow, and some extremely cold temperatures.
The North Course will stay open as long as it can, but if it is closed the food inside is good.
If you need of a Thanksgiving getaway, think Eagle Ridge from November 26-30. A great Thanksgiving dinner and more. See Eagleridge.com (800)-892-2269 for more information.
Daytona Beach Area Florida Golf is offering the "Tee it High Let it Fly" golf package.
The package is three nights and three rounds of golf, complete with oceanfront accommondations, and a break from the cold weather up north.
Courses like Cypress Head, operated by Northbrook based KemperSports Management, has been busy since a 2015 renovation of the Arthur Hills designed golf course. The package allows for golf at the private-Plantation Bay Prestwick Course, and the Palm Harbor Golf Club. The 4.5 star Hyatt Place Oceanfront is your home. Details at DaytonaBeach.golf
THIS AFTERNOON at 2 PM on ESPN2, is the broadcast of the PGA Jr. League finals from Grayhawk in Arizona. The championship was held 2 weeks ago, but the broadcast is first airing. Team Cog Hill is representing Illinois, and is led by Coach Kevin Weeks.
Links Captial Advisors and Chris Charnas, have announced they are handling the perspective sale of two courses.
Reems Creek in Weaverville North Carolina at $1M. In addition to the Limestone Springs Golf Club in Oneonta Alabama, on the market for $1.1M. Further details at Linkscaptialadvisors.com or Chris@linkscaptialadvisors.com or call Chris at (312)-543-7192.
HE IS THE MAN-WITH THE GOLDEN JACKET, Chad Johansen the GM-Head golf Professional at Blackberry Oaks GC in Bristol has the #Kidsrule all winter golf going on.
But before we tell you more about CJ Winter golf,  CJ's summer home Blackberry Oaks now has 2020 memberships now on sale. If you join before December 1st of 2019, you can save $250 on a Platinum or Classic Golf Membership. If your paid in full by December 1st, you also earn a $100 Blackberry Oaks Gift Card.
But, even better. Outdoor golf is not over in CJ land, better known as Blackberry Oaks. Next weekend the BBO's Turkey Shoot, Gobbles across the links.
THE CJ Winter Golf Academy at the Go For it Sports Dome in Yorkville, has 3 simulators. Kids contests and more. Registration is underway. Blackberry Oaks at 2245 Kennedy Road Bristol. (630)-553-7170. blackberryoaks.com Where Kids Rule #kidsrule
The Kiawah Island Resort located on Kiawah Island SC, just south of Charleston SC. is planning exciting events for the winter ahead.
Winter is anything but dull at Kiawah.
Golf events are among whats planned in the months coming up.
Did you know ? That the Ocen Course will play host to the 2021 PGA Championship, in May of next year. Rory McIlroy won the championship the last time it was played at Kiawah. For more information see kiawahislandresort.com or call (800)-654-2924.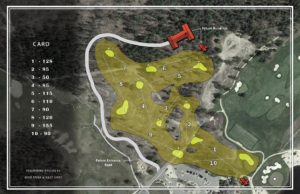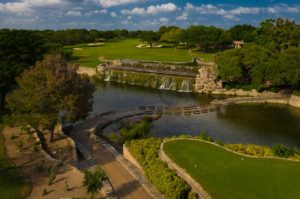 THE DRAWING of the NEW Par 3 Course at the Forest Dunes Golf Resort in Roscommon Michiga (L). The fairway "wall of water" on Slick Rock at the Horseshoe Bay Resort in Austin Texas. Both resorts made the GolfMagazine Top 100 resorts list. For reservations see Forestdunesgolf.com or for Horseshoe Bay, see hsbresort.com.
CONGRATULATIONS goes out to Kellee Booth the WWGA 1999 Amateur Champion for being named to the Arizona State University Hall of Fame. Booth who won the WWGA Amateur at The Hawthorns G&CC in Fishers Ind, follows in her mothers footsteps having both honors. Booth's mom Jane Bastanchury (Booth) who passed away in 2018, was the 1969 WWGA Amateur Champion at the Oak Park CC and in 1970 winner at Rockford CC, was inducted into the ASU-HOF in 1980.
BGT-Breakthrough Golf Technology, has now introduced a putter shaft, with a tour-preferred feel, and sleeker look and style.
Barney Adams Breakthrough Golf CEO says,"Introducing a tour model is just a natural progression of the brand. Stability clearly has filled the void in the putter category and now golfers who want to play exactly what the tour pros play, will have that option with the Stability Tour. Stability Tour sells for $249.00 and is now availible for immediate shipping. Breakthroughtech.com.
THE GOG BLOG returns tomorrow. RS