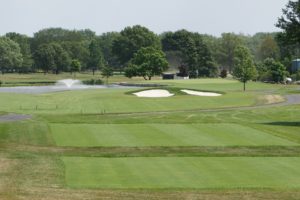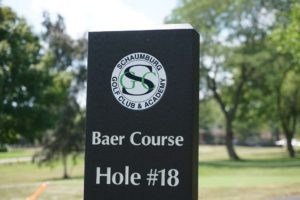 THE SCHAUMBURG GOLF CLUB at 401 North Roselle Road has 18 renovated holes open for play. The final 9 holes of renovation is well underway, and should be open for play in the middle of next summer. When we run out of warm days, the upgraded simulators will be open for play all winter. Schaumburggolf.com or call (847)-885-9000    ______________________________________________________________________
WELCOME TO THE SUNDAY MORNING SHORT GAME-Where I try and catch you up on all sorts of golf news around the area, and beyond.
Rain-Rain go away, it's been a soggy Saturday yesterday, so taody could be a cart path only day. Hope not, those days are always a pain.
EIGHT members of the Illinois PGA Section, have been playing in the Senior PGA Professional Championship at Barton Creek in Austin Texas. Where the Top 35 finishers earn a place in the Sr. PGA Championship field at, The Golf Club at Harbor Shores in Benton Harbor Michigan next May.
"We are very proud of the Senior PGA Professionals that have qualified for this event," said Carrie Williams, Executive Director of the Illinois PGA Section. "We have a strong group of professionals that are representing the Illinois PGA Section this year at the National Senior PGA Professional Championship, and we wish them all the best this week."
With 54 holes in the book, Roy Biancalana is the only professional from Illinois in the Top 35. Biancalana from the St. Andrews Golf & Country Club in West Chicago, is at 2 under par and in a 5-way tie for 34th place. David Paeglow from Kishwaukee Country Club, is at even par, and a for T-49th place.
The other six Illinois PGA professionals, John Varner, Jim Sobb, Danny Mulhearn, Andy Shuman, David Hannon and John Guyton missed the 36-hole cut.
THE ILLINOIS PGA SECTION has announced the hiring of Kevin Quinn as the Manager of Membership and Communications, and Elizabeth Mavrogenes as the Player Development and Foundation Programs Manager.
"We are extremely excited to make these staff announcements that will strengthen our Section, Foundation and the ways in which we serve our membership and fulfill our mission of growing the game," said Carrie Williams, Executive Director of the Illinois PGA Section and CEO of the Illinois PGA Foundation.
Quinn joins the Illinois PGA after two years in the Iowa PGA Section, and attending the University of Iowa. Mavrogenes has spent the last three years, being the junior golf instructor at River Forest Country Club. She is a graduate of Illinois Wesleyan University, where she spent four years on the women's golf team.
MISTWOOD GOLF CLUB, WILL HOLD the 20th annual Jumbalaya Open on Saturday November 2nd. Tee time is at 9:30.
One last chance to play in an outing before winter hits. This event is a two-man scramble team, with the format of alternate shot.
The $155.00 fee per player, covers 18 holes and a cart. Team's compete for over $10,000 in prizes, and receive te gifts. Sign up by calling (815)-254-3333.
PINE MEADOW GOLF CLUB in Mundelein has fall rates in effect for all days. There are also fall scrambles yet to played. Pine Meadow has a great sale on some demo Ping Wedges, for $79, normally $200. See Pinemeadowgc.com or call (847)-566-GOLF.
FALL GOLF is here at Cog Hill. The aerification schedule is out. But the good news is that the Course #4 aerification is now complete.
Course #2 will be from October 6-9, with Course #3 from October 13-16, and Course #1 being done from October 20-23.
Cog Hill is offering several more events including the Trick-or-Treat Open oct 19th. The Turkey Shoot Nov. 2 & 3. The Black Friday Open Nov. 29th, and the Forsty 3-Club Open on December 15th.
Cool weather gear from multiple companies has arrived. But the big news is the annual holiday sale, has been moved up to Saturday November 30th, with end of the year sales. More information at Coghillgolf.com or by calling (866)-COG-HILL.
DuPagegolf.com has announced the famed Rambo Scramble is scheduled for next Saturday October 12th. And the dealine to sing up is quickly approaching. The event normally sells out so get signed up quickly.
See the greenskeeper put out some very tricky pin placements, and enjoy the fun.
More good news from DuPage Golf, is that ground has been broken for the building of the new clubhouse at the Preserve at Oak Meadows. See Dupagegolf.com.
THE THREE HOLE SUNSHINE COURSE at the CDGA Golf House is seeing some renovation work, the removal of thatch from the course was done, by equipment donated by JW Turf/John Deere. More details at CDGA.org.
MyrtleBeachGolftrips.com a premier golf website for booking Myrtle Beach golf trips, has created and launched a new content focused website, that will make golf trips to the Grande Strand even more enjoyable.
The new site will feature a multitude of written and video user-generated content. This will allow golfers to follow all the latest news about developments around Myrtle Beach golf scene.
Golfers can now through the site, book golf at all Myrtle Beach area golf courses, for the best price, based on day, time of of day or location. To find the best deal for their group of players. For more details on golf in Myrtle Beach see, Myrtlebeachgolftrips.com.
MORE FROM MYRTLE BEACH, Golf Magazine has listed two Myrtle Beach resorts in it's Top 100 golf resorts across America. The Barefoot Resort and True Blue Caledonia, both made the list from the 243 of the nations stay and play facilities. This was the magazine's first Top 100 resort ranking list. Barefoot has four courses, designed by Greg Norman, Pete Dye, Tom Fazio and Davis Love III. Caledonia and True Blue are both Mike Strantz creations. Book tee times at both via Myrtlebeachgolftrips.com.
AND MORE, the River Hills Golf Club has finished it's clubhouse renovation. Come and enjoy River Hills Golf, where reaction to the new clubhouse has been outstanding. See Riverhillsgolf.com to learn more.
BOYNE GOLF in Michigan also joined the Golf Magzine Top 100 list with it's Inn at Bay Harbor, and Bay Harbor Golf Club, and Boyne Golf in general, for it's three properties in the Northern Michigan area. See Boynegolf.com for details on fall specials and more.
DRIVERS FAILING THE TEST-at the recent Safeway Open the PGA Tour was testing the players drivers to see if they conform. Apparently at least five players had drivers that did not conform. The drivers that did not conform were made by Titleist, TaylorMade and Cobra.
MICHAEL BREED who has been seen for years on the Golf Channel, and is a former Teacher of the Year, has signed on as an Ambassador for V1 Sports, known for video and golf software apps.
Topgolf has opened in Richmond Virginia as of October 4th. Topgolf officials have communicated that the new Topgolf Schaumburg will open in 2019. But there is no official date yet for opening day.
The netting is now up and in place, and the grounds around the facility are taking shape. Stay clicked in for details on opening day for the Schaumburg Topgolf location.
TOPGOLF has partnered with the National Veterans Memorial and Museum to host a hiring event at 10 Topgolf locations on November 8th. In addition to hiring America's military hero's, proceeds from all events will be donated to the museum. The first hiring event was held in Columbus Ohio last month. Topgolf is working with area companies to help place veterans in several communities. The hiring events next month are in, Atlanta, Columbus, Denver, Jacksonville, Kansas City, Las Vegas, Nashville, National Harbor, San Antonio and Virginia Beach.
Topgolf Entertainment Group has entered into an agreement with Jada Pinkett Smith, and Will Smith's Westbrook Media, to create new orginal entertainment. The first project in this agreement will be an orginal comedy series called THIS JOKA, that Topgolf Studios, Westbrook Media & Will Smith are creating together. See more at Topgolf.com
Oakbrook Terrace based Zero Friction Golf, is still receiving strong reviews from golfers on it's line of gloves, that include Compression-Fit technology.
Zero Friction has a synthetic and Cabretta leather, that helps you fit into a glove, and removes golfers from trying to guess what size they belong in.
The gloves just mold around your hand, and golfers feel they are getting a needed improvement when they grip a club. Zero Friction gloves has a large inventory of colors, and offers gloves with logo's of your favorite professional or college sports teams. See zerofriction.com for details or call (630)-317-7700.
Belvedere Golf Club one of the most historic golf properties in the Midwest, has announced the hiring of Jordan Caplan as the new superintendent.
Caplan joins Belvedre from the famed Philadelphia Cricket Club, where he was the superintendent of the clubs St. Martins Course for seven years.
Belvedere a 1925 Willie Watson design hosted the 2019 U.S. Hickory (shaft) Open this past June. St. Martins hosted the 1910 U.S. Open. In 2025 Belvedere in it's centennial season, will host the Michigan State Amateur. The course is open to the public. It can be reached via belvederegolfclub.com or by calling (231)-547-2611.
STITCH GOLF HAS launched it's fall golf wear line for men, you can see all the new additions at Stitchgolf.com. Shirts, pullovers and more.
Now is the time to get a jump on the rush to the sunshine state of Florida.
Just North of Tampa in Palm Harbor is the Innisbrook Resort, part of the chain of Salamander Resorts and properties.
Right now and until the start of December, are overnight rates that start at just $89.00.
How about the Classic Golf Package, with rates starting at $119.00, one round of golf per nights stay, with a $10 credit in the pro shop.
Play where the pro's play, play the Copperhead Golf Course at Innisbrook, where the new room renovations are ready for your arrival. (866)-394-2838. Celebrating 50 years in 2020.
KOHLER COMPANY is opening it's newest spa right here in Chicago.
Located in Lincoln Park on the corner of Halstad and Fullerton, will be the newest spa and it will open on October 11th.
2358 N. Lincoln Avenue, call (312)-245-9129, for a full list of services and hours of business.
Kohler is also announcing it's fall challenge on it's golf courses, coming up the last two weekends of October. October 19-20 it's the Irish Course and the Meadow Valley Course. On October 26-27 it's the River Course and 2020 Ryder Cup course Whistling Straits. See Destinationkohler.com. 36 holes of golf a 1-night stay get booked today.
The Gog Blog returns on Monday, with the Gog Blog Speaks Out. RS