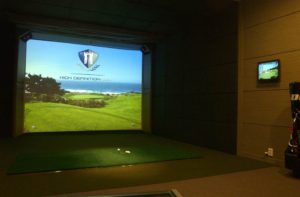 COMING THIS FALL TO LONG GROVE IL.-IRONS & WOODS. Located on Rt. 53 North of Lake Cook Road. Golf season is year round at Irons and Woods. HDGOLF.       _____________________________________________________________________
When a very successful 2004 PGA Championship ended, CEO Herb Kohler, and Kohler Company made an incredible deal with the PGA of America.
It included adding two more PGA Championships in 2010, and 2015, besides the Ryder Cup in 2020.
So when Ryder Cup Captains, Steve Stricker and Padraig Harrington got together earlier this week, Kohler Company President David Kohler was present for the press conference.
After the press conference Kohler spoke with several media outlets, including Golfers on Golf.
Kohler made it clear, that the Kohler family is every excited about hosting next years Ryder Cup.
They have worked with the PGA of America, on getting the golf course ready for large galleries, and for some exciting golf.
Because, there are only four groups on the course at most times. And with thousands of fans trying to watch the action, things on just a few holes can get crowded.
Another topic David Kohler spoke to, was that of the PGA Championship returning to Whistling Straits in the future. Because it's been speculated on, that the PGA Championship might not be able to return to a northern location like Haven Wisconsin, because of it's new May dates.
But Kohler didn't exactly rule out a May PGA Championship returning to the Straits Course at some point in the future. Hear the interview below, and hear Kohler's thoughts on the Ryder Cup, and the possibility of another PGA Championship.
Click here to listen to the interview with Kohler CEO David Kohler.
For more details on golf at the American Club this fall or next year, you can visit destinationkohler.com. Remember fall is a pretty time to visit Kohler Wisconsin, and enjoy the colors on the four golf courses.
Kohler says that work is continuing with the State of Wisconsin, and various state agencies to move forward with the building of a 5th golf course. That course would be located south of Whistling Straits, and several holes would have views of Lake Michigan. So stay tuned for updates.