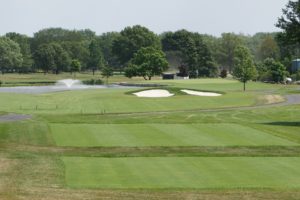 THE SCHAUMBURG GOLF CLUB (L) has 18 renovated holes open for play until the end of the outdoor golf season. Then it will be time to enjoy the updated simulators on the lower level. Stay clicked in for details on fall golf for the Schuamburg Golf Club at 401 N. Roselle Road (847)-885-9000. IRONS & WOODS is opening this fall in Long Grove IL. on Rt. 53 North of Lake Cook Road. HDGolf simulators, and much more fun.   _____________________________________________________________________
RYDER CUP 2020 at Whistling Straits in Haven Wisconsin, is now less than a year away. I hope you applied for your tickets, before the deadline passed.
This past Tuesday Ryder Cup Captains Padraig Harrington Team Europe, and Steve Stricker Team USA, met on the site of the matches for a media session.
So what's already happening for both sides, as the playing of the 2020 Ryder Cup is now 11 months away.
Because there is so much involved, besides looking at the point standings, the captains have been busy getting all the off course preperations pulled together. But it was also refreshing to hear how the teams will come together, after a year of study by both sides.
Click here to listen to Part 2, of the 2020 Ryder Cup press conference this past Tuesday at Whistling Straits.
Stricker gave some insight on his plans for his captains picks, and he did not seem to rule out anyone.
The door on Team USA is open for the young players, and it's not at all closed on players like Tiger Woods and Phil Mickelson.
So the PGA Tour schedule ahead, will have all the best players going all out to make the team. On the European side, it would not be surprising to see Harrington go with a line-up of players who brought home the cup from Paris last year. So regardless of who plays for either team, the Ryder Cup of 2020 should provide plenty of excitement.
Part 3 of Ryder Cup 2020, will run next here on the site. Our interview with Kohler Company President David Kohler, on the Ryder Cup and tournaments going forward on Kohler golf courses. Kohler did not rule out future PGA Championships in May, on the Whistling Straits links.
The Ryder Cup website is now up and running, and you can keep track of the point totals for both teams, at Rydercup.com