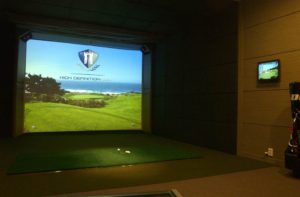 IRONS & WOODS opening this fall in LongGrove IL., on Rt. 53 North of Lake-Cook Road. HDGolf simulators will allow golfers to enjoy golf year round. Slot and more #fun   _____________________________________________________________________
ONE WOULD HAVE TO WONDER what Donald Ross would think about the new look in Pinehurst.
Besides the recent opening of the Manor Inn, there have been many other projects around the Pinehurst Resort.
So if you didn't see our story from last Friday, about the Manor Inn, I invite you to check it out. So many good things happening in Pinehurst and at the Resort, that it's a must visit for any golfer who loves the game. No many how times I visit, I can't wait to get back.
You can visit now and enjoy the Donald Ross golf package starting at $1,248 per-person, or the 1 round of golf one-night bed and breakfast package in the $400 range. Call Pinehurst at (844)-465-2415 today, and set up a great fall trip.
SPEAKING OF GREAT RESORTS, there is great news coming from the French Lick Resort., in French Lick Indiana.
Sports book betting has arrived. Do you want to bet golf, or the Bears games, or maybe even some Cubs playoff games. Because now you can.
So are you getting tired of not being able to do it in Illinois. Head off to Indiana and bet at the French Lick Resort. Because you can enjoy golf on the Pete Dye and Donald Ross golf courses, then hit the casino and sports book for more gaming action. Plan your stay at Frenchlick.com. And don't forget the Sr. LPGA Championship is coming up October 14-15-16. This tournament is fun to watch. Besides Chicago's and Mistwood golf clubs very own Nicole Jeray, is in the field.
I'm looking forward to attending the ground breaking tomorrow, for the new clubhouse at the Preserve at Oak Meadows.
It's been over 10 years since the fire took down the old classic clubhouse. And tomorrow, the dirt starts turning over to build the new one.
It will be next September before the new clubhouse is open for business, but Dan Wohlfiel's design should be one that golfers will enjoy when the come out to play golf. Details at DuPagegolf.com.
More great news from DuPage Golf, the annual Rambo Scramble is now scheduled for Saturday October 12th at Maple Meadows. Challenge your game against the toughest of pin placements. Sign up today at DuPagegolf.com.
IT WAS GREAT TO HEAR over the weekend, that all the golf courses in Myrtle Beach  South Carolina have reopened from the rain water that got dumped in the area, from Hurrican Dorian. So now comes better news that the Myrtle Beach Golf World Amateur is donating over 1,000 polo-golf shirts and pullovers, to the relief efforts going on in the Bahama's. A great gesture by the folks involved in Myrtle Beach golf.
THE FIRST COLLEGE TOURNAMENT was played at the new Sage Run Golf Course at the Island Casino in the UP of Michigan. I played there last summer And it's a wonderful course designed by Paul Albanese, who did the original Island Casino golf course. James Piot from Michigan State won the tournament with a 9 under par score. Liberty University won the team championship by 1 shot over Purdue. Michigan State was 5th. To book your stay and play, see Islandresortandcasino.com.
THE NORTHWESTERN UNIVERSITY Windon Memorial Invitational is underway today at Conway Farms in Lake Forest. Northwestern heads up a field of 14 schools, that includes several Big Ten teams and defending champion Marquette University. And final round play concludes on Tuesday.
THE ILLINOIS MEN'S GOLF TEAM ended up in 9th place in the Maui Jim Invitational in Arizona over the weekend. Freshman Jerry Ji in his first tournament, shot a 6 under par score for 54 holes to lead the Illini. Ji's first round was a 7 under par 63.
IT'S ALWAYS GREAT TO HEAR A GOOD HOLE-IN-ONE STORY. And today's story goes to Lee Welch from Burr Ridge. Welch nailed his driver on the par 4, 15th hole at Old Oak Country Club, 272 yards and into the cup for an ace. Haven't heard many hole-in-one stories on a par 4 lately. Congratulations Lee, you now owe me a drink.
CONGRATULATIONS to 57 year old Jeff Ott for winning the Illinois State Senior Amateur Championship at Westmoreland Country Club.
GARLAND LODGE AND RESORT in Lewiston Michigan is offering a month of Birdies and Birdies. Besides Golf, you can enjoy Pheasant Hunting as part of a partnership with the nearby Bourbon Creek Ranch. Details at GarlandUSA.com or by calling (877)-442-7526.
BMW CHAMPIONSHIP winner Justin Thomas, announced on social media he too has had surgery on his leg. After Tiger Woods and Dustin Johnson had knee surgery, Thomas had surgery for removing a cancerous growth out of the calf area of his leg. Best wishes on a speedy recovery JT.
THE SOLHEIM CUP…Team USA had it, then they didn't. Give Team Europe's Suzann Petersen credit for making the winning putt on the18th green. A captain's pick since she had not played much recently while expecting a child. The 38 year old, announced after sinking the winning putt, she would retire.
Give USA Captain Julie Inkster credit for getting her young team close, and only falling a 1/2 point short. But Team USA only needed a 1/2 point in it's last three matches and got nothing ZERO. Veterans Morgan Pressell, Danielle Kang and Lexi Thompson, didn't add much over three days. But many of the young Team USA members should be tough to beat in the years ahead. Exciting TV at the end, but bad loss for Team USA.
Over 95,000 fans showed up for the week, a record for women's golf in the UK. The 2021 Solheim Cup will be played at the Inverness Club in Toledo Ohio.
The Gog Blog returns this week. RS