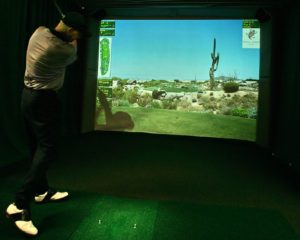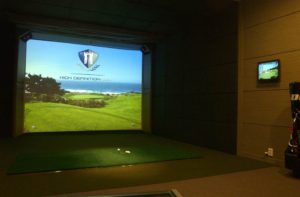 GOLFERS ARE YOU READY- FOR IRONS & WOODS opening this fall in Long Grove IL. on Rt. 53 North of Lake Cook Road. HDGolf simulators and more. #yearroundgolf.    _____________________________________________________________________
IT'S BEEN A ROUGH WEEK for those courses in Lake County Illinois. So many of them this week received 5-7 inches of rain.
Because of that amount of rainfall, some courses have had to be closed, or go without carts. Golfers on Golf wishes them the best in getting reopened, and back up to full speed this week.
ILLINOIS MENS GOLF. The schedule is out. Coach Mike Small says the teams mission statement remains the same this year. "We will play against the best competition and on the most respected golf courses in America, and our fall schedule backs that up," said Small. "Our players will have an opportunity to build a resume against the nations top golf programs."
The Illini start the seson at the Maui Jim Invitational in Scottsdale AZ.. After Round 1 Illinois sits in 4th place, but Freshman Jerry Ji from the Netherlands, leads the championship after a first round 7 under par 63. In Round 2, Ji shot a 2 under par 68, Ji is now third place. Illinois fell back to 10th place.
Coach Small said," the team came out flat and that does not sit well with the coach staff." Small added he expects the team to come out strong in the final round, and finish the tournament strong.
Illinois has it's own invitational at Olympia Fields next weekend Friday-Sunday, 11 ranked teams in the top 30 will compete. October 14-15 the Illini will compete at the Crooked Stick Intercollegiate in Carmel IN., October 20-22 is the Tavistock Collegiate in Windermere FL. The final fall event is the Cypress Point Classic in Pebble Beach Cal. on October 28-29.
PINE MEADOW GOLF CLUB in Mundelein has reopened from heavy rainfall, and has carts out. Greens have been cut and rolled, bunkers might still be washed out. For details call (847)-566-GOLF. Or visit Pinemeadowsgc.com.
The University of Illinois Women's Golf Team, will have three new events this fall says Coach Renee Slone.
"These new tournaments will certainly test the players and enable us to grow and develop," said Slone.
#16 Illinois opens their fall season this weekend in Toldeo, at the Glass City Invitational. October 27-29 Illinois heads to Oklahoma for the Schooner Fall Classic. And October 8-9 Illinois will host it's own invitational at Medinah Country Club, on it's recently renovated Course No.2. Illinois closes out it's fall schedule from October25-27 at the Landfall Tradition hosted by UNC-Wilmington. The spring has the Illini women playing in five tournaments before the Big Ten Championships at TPC River Bend in Ohio, April 24-26.
Illinois has three players that have been named, BIG TEN players to watch. They include Tristyn Nowlin, Kornkamol Sukaree, and Crystal Wang.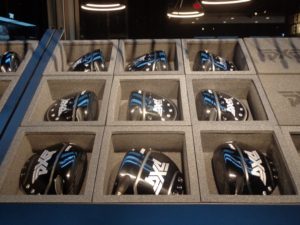 CLUB CHAMPION and PXG GOLF are working together and offering FREE 0211 Iron Trials. Golfers you have 30 free minutes to test the new PXG 0211 Irons. Club trials by the nation's largest clubfitter, builder and retailer. Golfers have access to over 200 iron shaft options, and Trackman swing analysis technology.
Club Champion has over 60 locations nationwide now including Schuamburg Illinois, located of course on Golf Road.
"A trial at Club Champion seemed like an incredibly effective way to show off the performance and feel of our brand new PXG 0211 Irons," said PXG founder and CEO Bob Parsons. "Their fitting expertise and technology are an ideal combination for showcasing the outstanding new club technology we've created."
The new PXG 0211 irons gives golfers the PXG high standard of quality, while delivering a price tag at under $200 per clubhead.
"Club Champion is one of the few fitters than can offer PXG to it's customers, and we're excited to bring the 0211's into the mix," said Nick Sherburne, founder of Club Champion. "These new irons bring the sough-after PXG craftmanship to a wider range of golfers, and this trial is a great way to demonstrate their performance."
Hurry because the deadline is coming soon. Call Club Champion at (888)-340-7820, and ask about the new Club Champion financing program. Customers now have up to 18 months to pay.
Dallas based Topgolf, a global sports and entertainment community, has now announced plans to expand into central Europe.
Topgolf will now open new venues in Germany, Switzerland and Austria. These venues will be opening over the next several years.
It's expected that eachvenue will add at least 350 jobs. The expnasion is part of a new agreement between Topgolf and and the Switzerland based Greenreb Ltd. Locally there is no announcement yet on the opening of the new Schaumburg IL. location, on the site of the old Motorola campus. But construction is advancing, and the site looks close to opening. More details at Topgolf.com.
GOLF360 is backwith Dave "Links" Lockhart, and former Chicago Bear Patrick Mannelly.
The current edition includes features on the City of Elgin golf courses, the Highlands of Elgin, and Bowes Creek.
Golf instruction from 2015 Illinois PGA Golfer of the Year Bill Abrams. The Kankakee Elks Golf Club and a clinic held at the BMW Championship. Upcoming viewing options include Sunday 9-15 3:30 PM, Monday 9-16 at 5 PM, and Sunday 9-22 at 4:30 PM on NBC Sports Chicago.
THE NEW CALLAWAY JAWS wedge line created by designer Roger Cleveland, is now available for pre-order at Callawaygolf.com.
Cleveland who has been designing wedges for over 40 years, has created what he feels are the most aggressive grooves ever built.
They will give golfers better control and exceptional spin, which gives golfers the one-hop and stop results they look for. JAWS wedges for when your wedge shots need to spin. See more at Callawaygolf.com and watch the podcast video with Roger and Dave Neville.
ARE YOU READY to golf away, And golf all day ?
Besides unlimited golf all day long, with range balls and a golf cart. Because you deserve it. So if your ready for a trail full of golf, with 26 courses and over 400 golf holes.
Now is the time to book your golf trip to the Robert Trent Jones Golf Trail in Alabama. So pick up the phone and call (800)-949-4444 today, and make you tee times. Cost is $200 for Ross Bridge. More details at RTJGolf.com.
NEW BALANCE has announced an upgrade to it's line of golf shoes.
Because New Balance is bringing a higher level of comfort to all of it's golf shoes.
First installed in it's running shoes, Fresh Foam Technology is now been added to golf shoes. With improvement in the Midsole, and around the shoe. Golfers will expeirence a new level of comfort. Available for both men and women starting on October 21st. For more details, see newbalance.com.
THE MISTWOOD GOLF DOME and McWethy's Sports Bar welcomeyou to an exciting weeknd of sports.
So you want college football on Saturdays, the NFL on Sunday. Well McWethy's Sports Bar is the place to be. It's your home for the end of basbeall season, with food and drink specials.
So check out the Mistwood Golf Dome and McWethy's Sports Bar for all the sports action. McWethyssportsbar.com located on Rt.53 in Bollingbrook.
THE NEXT U.S. OPEN at Erin Hills in Erin Wisconsin, is six years out, so in the meantime there is plenty of time for you to enjoy the walk around Erin Hills.
So right now go make your reservations for 2020.
Besides that good news, comes the latest way for you to enjoy the range at Erin Hills.
As Toptracer has become a part of the driving range. This Topgolf technology is a great way to practice and monitor your ball flight while practicing. Call Erin hills for this year or next year at (866)-772-4769. Or email reservations@erinhills.com. The new Drumlin putting green is open for play.
GAYLORD BASED KEVIN FRISCH PR-has announced that JoAnne Miller has joined the firm. Miller has worked for years in golf PR, and formerly with Phil Kosin at Chicagoland Golf.
SOUTHEAST GOLF back up and playing. There is great news from the Daytona Beach FL., Kiawah Island Resort near Charleston SC., and from Myrtle Beach SC. All the golf courses have reopened from the heavy rain that feel during hurricain Dorian. Visit websites if you need more information, but all courses are now open for play.
OAKBROOK TERRACE based Zero Friction reminds you that, they have golf clubs with your favorite college and professional football teams logo's on them. For more details visit zerofriction.com or (630)-317-7700.
THE WINDOW HAS CLOSED to apply for 2020 Ryder Cup tickets at Whistling Straits, good luck to all who applied. RS