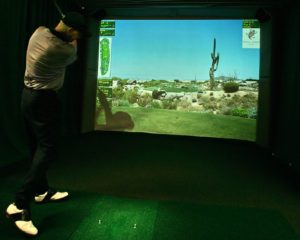 IRONS & WOODS is coming to the Long Grove IL. this fall. Located on Rt.53 North of Lake Cook Road (Behind Menards). HDGolf simulators will power the way to a full year round golf season in the Chicago area. Hold your private function, and enjoy the slots. Stay clicked in here, to follow the build-up and be ready for opening day. #irons&woods  ______________________________________________________________________
ABOUT THIS TIME last year Sunset Valley Golf Course was reopening from a Rick Jacobson renovation.
And like most courses when they start welcoming the golfers back for play, after the architect and construction crews are done. There is still need for some grow-in time.
But one year later Sunset Valley looks like it has been back in play for 3 years. It has matured that quickly, and local golfers enjoying the benfits. Play is up and maybe by as much as over 10,000 rounds, from when Sunset Valley last had a full season of golf. General Manager Ryan Ochs says the course renovation, has received a great response from golfers.
Ochs wrote this message in the 2019 Sunset Valley Golfer Guide.
"As we embark on the 2019 golf season, I would like to extend a huge thank you to our loyal Sunset Valley golfers. We are proud and excited to welcome you back to our first full season of golf at the "new" Sunset Valley. We appreciate your patience and unwavering support through the past two years.
The new course offers challenges to every level of golfer. Because each hole has it's own unique features, that make you use your creativity as you make your way around the golf course. For your enjoyment, we encourage you to select the proper set of tee's based on your handicap. After your round is complete, I hope you will stay for a cocktail and a bite to eat at our new 13ninety restaurant to enjoy the breathtaking views of Sunset Valley on the patio.
I look forward to seeing you on the golf course. Hopefully Mother Nature will cooperate, and warm days will arrive. So please remember that our "new" new course is young and maturing. We hope you will help take care of the course by repairing divots and ball marks. See you at Sunset."
Golf architect Rick Jacobson who oversaw the renovation, was awarded with a 2018 Design Excellence Award. Which is award by the American Society of Golf Course Architects (ASGCA).
The facility itself, was honored by the Illinois Park and Recreation Association. Because it received the Outstanding Facility of the Year Award.
The award goes to only one facility from over 2,000 facilities in the state.
The clubs 1390 address on Sunset Road, has been used to name the 19th hole. Sunset Valley founded in 1920,  has now announced more improvements.
Ochs was proud to recently announce the club is now adding a new short-game and junior golf practice area.
Jacobson is returning to design the area, and fund-raising for the project is underway. Among the first to step up and support the project, was Illinois Golf Hall of Fame member and former British Amateur Champion Joel Hirsch.
Sunset Valley has created special events and programs, to welcome the golfers back.
You can join the Sapphire Club for $100 and earn reward points towards green fees and merchandise for money spent.
How about this, Kids play free. Yes after 5 pm junior golfers 18 and under play free, when joined by a paid adult green fee and cart.
Golfer appreciation day is coming up on Friday September 20th. And with a paid greens fee, you get a free breakfast or lunch and the option of 20% off on pro shop merchandise.
Sunset Valley has become one of the best public courses in the area, so come see what all the enjoyment is by playing the Sunset Valley Golf Course. Located right off the Edens Expressway in Highland Park. Visit sunsetvalleygolfclub.org or call the course at (847)-432-7140.