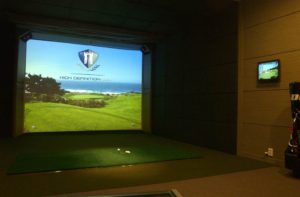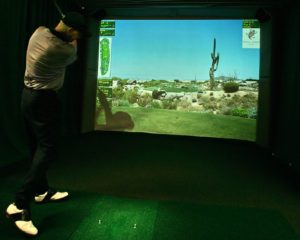 IRONS & WOODS COMING THIS FALL TO LONG GROVE IL. ON RT 53 NORTH OF LAKE-COOK ROAD-Located behind Menards. Irons and Woods will be home to HDGOLF, slots, and more sports activites. Plus fun-fun-fun. So stay clicked in for more details on the grand opening. Chicago area be ready for golf season all year round.      ______________________________________________________________________
THE GOG BLOG-by RORY SPEARS, Director of Content and Creation for GOLFERS ON GOLF. Follow Rory on Twitter @GogBlogGuy and Facebook or Linkedin.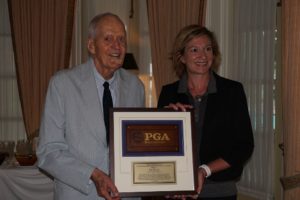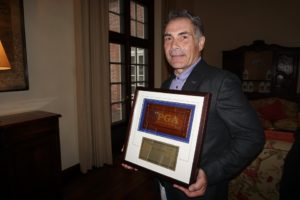 ED POSH receives his Senior Masters Award from IPGA Executive Director Carrie Williams (L). Billy Rosinia and his IPGA Senior Masters Award (R) at the Onwentsia Club in Lake Forest.
Ed Posh and Billy Rosinia were named winners, of the 2019 Illinois PGA Senior Masters in July. Both Posh and Rosinia were presented with their awards, by Carrie Williams, Executive Director of the IPGA.
Post got his start in golf during WW II in 1942, at the Saucon Valley Country Club in Bethlehem PA., because at age 13 he became a caddie.
"I really enjoy being around people. And was as good as anybody at handling all types of situations," says Posh, who recently celebrated a 90th birthday. "Kill them with kindness. I enjoyed that."
As time went on, Posh moved around in the golf business between Pennsylvania and New Jersey. And during this time, he spent a couple years in the Army. Which included time in German and France, building runways for military aircraft.
Then after some winter golf work in Florida, Posh headed to the Midwest. His stops included Orchard Ridge Country Club in Fort Wayne IND., then Charles Country Club, Glen Oak, before moving over to the new Village Links Golf Club in 1967. Posh then became Village Links first head golf professional.
From the Village Links junior golf program, came players like former PGA President Roger Warren, Kemper Lakes GM John Hosteland, and David Glod Founder of Tour Edge Golf. The Ed Posh Scholarship Shootout, has raised over $856,000 dollars in 24 years, to help send kids to college.
BILLY ROSINIA watched his dad play golf in the Cook County Amateur at Columbus Park Golf Course, when he was just six years old and became hooked on golf.
" I have always loved being inside the ropes competing in events against challenging players on beautiful golf courses," said Rosinia.
Rosinia learned the game of golf at Fresh Meadow Golf Club and Driving Range, when it was run by Jemsek Golf. But since he enjoyed all-sports, his football skills took him to college at Missouri Western. So one day after getting crunched by a bigger player, he started to have doubts about football.
During the following summer where he worked hard on his golf game. Rosinia soon found himself out west at Mesa Community College playing golf. His level of golf grew to where he found himself playing mini-tour events, and two Western Opens at Cog Hill. In 2008 Rosinia played in the U.S. Sr. Open at the Braodmoor, where he made the cut and qualified for the Senior PGA Championship at Harbor Shores.
Rosinia says he is a "public course guy". So if you give hime 9-holes a driving range and a food and beverage operation. He is in his eliment.
That and a little-more is what Rosinia has at Flagg Creek Golf Club in Countryside, since 2000 when he started. Where he is the General Manager/Head Golf Professional.