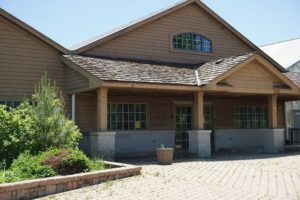 IRONS & WOODS-COMING THIS FALL TO LONG GROVE on Rt. 53, North of Lake Cook Road. Golfing all year round is now your option. Golf simulators with style. #slots. _____________________________________________________________________
One of golf's premier artist's, Milwaukee Wisconsin based Cassy Tully. Will have her artwork on display this week, at Medinah Country Club during the BMW Championship.
The orginal artwork created for the championship, features Medinah's iconic clubhouse. Besides this weeks PGA Tour Fed Ex Cup event. Medinah's rich golf history includes. The 2012 Ryder Cup, two PGA Championships, three U.S. Opens and Western Open's.
So this week as fans attend the playoffs at Medinah, they can purchase an 18×24 poster of the clubhouse paining, created by Cassy for $25 dollars each.
Besides the posters, Cassy's hand-painted ornaments can be signed and dated. And the $50 dollar ornaments are created with a texture of sand from Medinah's bunkers.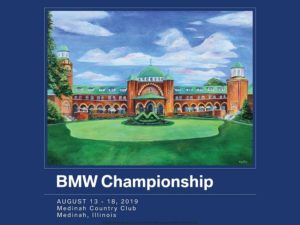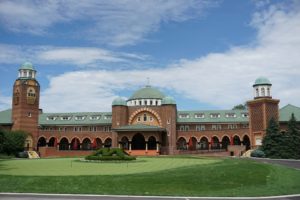 (L) Cassy Tully's BMW Championship at Medinah poster. (R) The Medinah Clubhouse.
Cassy's canvas print of the clubhouse, will be auctioned off on Monday. And a portion of the benefits, will go to the Evans Scholars Foundation.
"My paintings, posters and ornaments, celebrate the BMW Championship through capturing the history of Medinah Country Club,"explained Cassy. "I'm honored to work with the Western Golf Association. And help support the Evans Scholars Foundation."
And Cassy will appear in the merchandise tent. Starting Tuesday, and through Sunday to sign posters, personalize ornaments, and meet with fans.
Because Medinah's clubhouse is one of the most recognizable landmarks in all of golf. Having it captured on canvas, posters and ornaments is a special collectible opportunity for golf fans.
Besides the 2012 U.S. Women's Open, and the 2015 PGA Championship at Whistling Straits. Cassy's created signature art for the 2015 Palmer Cup, at Rich Harvest Farms. And the 2018 BMW Championsip at Aronimink.
Because Cassy's work blends traditional techniques, and modern acrylic painting methods. It makes her art so popular with golf patrons.
Her custom paintings are on display at the Desert Mountain Club in Scottsdale, the Valhalla Golf Club in Lousiville. And now the Mistwood Golf Club in Romeoville. See more of Cassy's work at www.cassytully.com.
Because of Cassy's poularity with fans, her Medinah collection is expected to sell out. So don't wait to make your purchases.