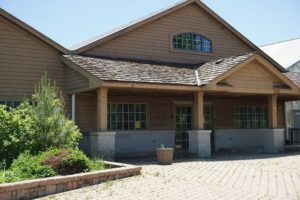 IRONS AND WOODS COMING THIS FALL TO LONG GROVE-ON RT.53 NORTH OF LAKE COOK ROAD-Behind Menards. Golf and Sports Simulators, Slots and more #fun. ______________________________________________________________________
When Nick Sherburne and Joe Lee started to see the progress made by PGA Touring professionals, on the course and after working with club fitters in the tour trailers. Something hit home.
No, it wasn't the Smash-Factor of a tour pro hitting a long drive. It was like, so what could happen if the everyday golfer had access to the same technology. Besides becoming a better golfer, and enjoying the game more.
Because with the proper clubs from Day 1, golfers in principle, shouldn't have to spend a "big bucks" on clubs, then first go out on a golf course and find out they didn't perform as expected. Little-by-little that message is hitting home. Because buying an expensive driver or putter right off the rack, and taking them out on the golf course and hoping for top results. Is no longer what most golfers are doing. They hit fitting centers like Club Champion.
There was a time when golfers got fitted for more expensive clubs, like drivers and full sets of Irons.
But no longer does the process stop there. Hybrids, putters, and the golf ball are all now part of the process, because if you want to get it right top to bottom. Why stop at just part of your bag. Besides, don't you want your entire game to be the best it can be.
If your not getting distance because your driver has bad ball flight, and you can't sink a putt. You need to find out why. Because maybe-just maybe, it's not your fault. Yes it can be the arrow, and not the indian.
Click here to hear the interview with Schaumburg Club Champion store manager, and master fitter and builder Alex Praeger.
The front entrance to the new Club Champion location at 152 East Golf Road in Schaumburg. And the state of the art hitting bay, where golfers find the way to the best clubs for their game.
It doesn't matter what brand you like to play. Titleist, Callaway, Taylormade, PXG, Ping, or Wilson. Let Club Champion find the clubs that are right for you.
Club Champion has four locations in the Chicago area. Besides Chicago, there is Deerfield, Schaumburg and Willowbrook. Further information at clubchampiongolf.com.