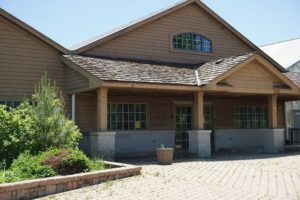 IRONS AND WOODS-COMING TO LONG GROVE this fall. Irons and Woods will be a golf and sport simulator driven fun establishment. With golf games, slots and more. So remember to put Irons and Woods on your schedule. Located on Rt. 53 North of Lake-Cook/Hicks Road, and directly behind the Menards Store on Lake-Cook Road. #golffun _____________________________________________________________________
ONE FOR THE MONEY, and TWO FOR THE SHOW.
David Cooke won his second Illinois Open Championship in five years. And the good news is this time is he gets paid.
Because when Cooke won by 5 shots in 2015, he was an amateur.  The check will come in handy, as Cooke is getting married this weekend in North Carolina. And his cut of the purse will be $23,768.00. One would think that Cooke's honeymoon with Claire Corbitt-Cooke, just got a little bit sweeter.
Cooke's final round 5 under par 67, was enough to defeat runner-up Nick Hardy by 4 shots.
Hardy put together an early charge on the first six holes, to let Cooke know it would not be a cake walk. But after Cooke's birdie on the par 5 14th hole, the feeling at the Glen Club was that Cooke had things under control holding a four shot lead. But he added another birdie on the par 4, 16th for good measure.
Cooke played steady golf all round. In fact his card was perfect, with 5 birdies and no bogeys. After the wedding and honeymoon, Cooke will look ahead to Q-School and the Korn-Ferry Tour, but has some options to play in Europe. This victory makes him the 12th player to win the open at least twice, and the fourth to have wins as both an amateur and a professional.
Hardy had 8 birdies on the day, and his 66 was the low round of the day. Besides the 8 birdies though, were two costly bogeys. And because those bogeys came on shorter par 4 holes, like 7 and 16. It ruined any chance Hardy had to catch Cooke.
And so after the round, Hardy admitted the last piece that needs to come together in his game, is wedges. Hardy was also the low University of Illinois player.
Hardy edged former teammate Bryan Baumgarten by 3 shots. Baumgarten tied Jordan Less at 6 under par, to share low-amateur honors.
Illinois sophomore Tommy Kuhl finished alone in 8th place after a final round 71, and teammate Luke Armbrust was T-34th.
Illinois alum Garrett Chaussard was one behind Kuhl, and was T-9 with 2017 champion Patrick Flavin. Flavin who started the final round, one under par. Went out on the front side with a four under par 32, but could not get any putts to fall on the back nine. Flavin put his drive on 18 in a fairway bunker And then after laying up with his bunker shot, his third shot into the green went splash and he finished the tournament with a double-bogey 7.
Illinois mens golf coach  Mike Small, looking for his fifth Illinois Open title, finished up T-40 after a 74. Small called the final round, "not one of my better days." And he admitted to having a few holes in his game, because of not having proper practice time.
Brandon Holtz the 2017 and 2018 runner-up, finished with a solid 69 and that left him in 7th place.
Frank Hohenadel head professional at Mistwood Golf Club, was the only one of the four Mistwood professionals to make the cut. Hohenadel finished in third place after a 69. His best finish in an IPGA major, since his 2011 IPGA Section Championship win at Medinah. And it was the highest finish for a Mistwood professional in the Illinois Open.
Tee-k Kelly and (a) David Perkins who played in the final group with Cooke, shot 71 and 76. Kelly ending up T-4 and Perkins T-16.
Click here to hear interviews with Champion David Cooke, and runner-up Nick Hardy.
And so the next IPGA Section major is, the Illinois PGA Section Championship at Ruth Lake Country Club in Hinsdale. Dates are August 26-27-28 more information at IPGA.com.