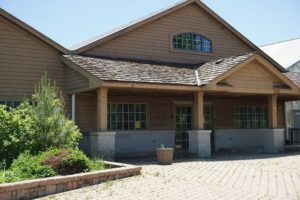 IRONS & WOODS coming soon to Long Grove, on Rt.53 North of Lake Cook Road behind Menards. Golf and Sports simulators, slot machines and more. Late Summer.      ______________________________________________________________________
IT'S CHRIS BOYLE off to the lead after 18 holes at the Illinois Open.
Boyle shot his 7 under par 65 score at the Glen Club, while most of the other leaders played at Ridgemoor Country Club.
But the key to Boyle's start, was making birdie on 4 of the first five holes. Then adding four more birdies on the back nine. The lone square on the scorecard came at the par 4, 16th hole.
When Round 2 begins on Tuesday, Boyle who lives in Crete, and works as an assistant professional at Balmoral Woods, will have a two shot lead on the field.
"I was hitting my shots early and my plan for the golf course was working," said Boyle."My goal was to make three birdies per side, and I exceeded that on the front nine. I hit my goal on the back nine. I know I had a good score today, but it's only 18 holes and there are two more days to go."
David Cooke who won the championship in 2015, by a 5 shot margin (the largest ever by an amateur player). Posted a 5 under par 67, and is alone in second place.
"I got off to a good start today," said Cooke. "But they key to my round was being able to take advantage of the par 5's."
Three players headed up by Tee-k Kelly are tied for third place at 3 under par. But only Kelly played at Ridgemoor.
Defending champion Vince India is not playing this year due to commitments on the Korn-Ferry Tour. 2017 Champion Patrick Flavin finished at +1 with a 73. University of Illinois mens golf coach Mike Small, who is looking for his fifth Illinois Open title carded a 76. That left Small who played Round 1, at Ridgemoor at +4.
2016 Illinois Open champion Carlos Sainz Jr. withdrew on Sunday night. Professional John Platt from Mistwood Golf Club replaced him. The day's first alternate Paul Schlimm Sr. also joined the field, that included his son (a) Paul Schlimm Jr. a member of the golf team at Northern Illinois University.
Mistwood Golf Club led the way with the most members of it's professional staff in the field, with four. Frank Hohenadel had the low score a 70, Andy Mickelson shot an even par 72, Platt shot 75 while Chris Ioriatti carded an 80.
Round 2 will be contested at both the Glen Club and Ridgemoor Country Club on Tuesday. The low 50-players and ties will make the cut after 36 holes, and play the final round on Wednesday at the Glen Club.