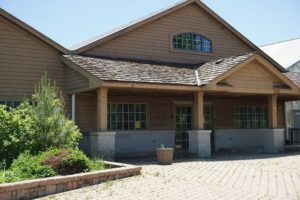 IRONS AND WOODS-COMING TO LONG GROVE THIS FALL. RT. 53 North of Lake Cook Road-behind the Menards. Golf and sports simulators, slot machines and more.     _____________________________________________________________________
IT'S OPEN WEEK. Yes, our states version of the Open Championship.
264 players, two golf courses, three days and 54 holes of golf. That is unless there is a tie, and at least three more holes are needed for a playoff.
Defending champion Vince India, has not returned, so this year there will be a different name on the trophy. Even though several past champions are playing, and looking for a second or third trip to the winners circle.
There is no clear-cut favorite this year. So do come out to the Glen Club, or Ridgemoor Country Club because the golf will be fun to watch. Besides you can cheer-on your favorite local professional or top amateur player. The open wraps up on Wednesday at the Glen Club, with a trophy presentation around 4-5 PM. And I will see you there.
SCHAUMBURG GOLF there is so much going on in Schaumburg these days on the golf scene. First up great news from the Schuamburg Golf Club. The Baer 9 renovation part of the clubs 27 holes, is working it's way to being done. Because in late June the first seven holes reopened from renovation. Now comes word that hole 17 is open. And that hole 18 is only days away fom having the entire nine open for play. Stay clicked in for details.
TOPGOLF SCHAUMBURG is no longer just a hole in the ground. So as construction continues, the building structure is going up and things are taking shape. I can't wait to see what new options will come with the facility when it opens.
CLUB CHAMPION SCHAUMBURG and of course it's on Golf Road. So where else could it be. I was back to the store last week for the first time since January, and that was before the store opened. Alex Praeger the store manager, and master fitter, showed me around and I tested some new clubs. The options there for your game are endless. I'm back later this week with more on club fitting the Club Champion way.
HE IS NO RANK AMATEUR it was great to see Garrett Rank the 31 year old cancer survivor and NHL referee win the 117th Western Amateur at Point O'Woods. I first met Rank at the 2012 USGA Mid-Amateur at Conway Farms. He made the championship match against the famed Nathan Smith. And he took Smith to the 36th hole before Smith made the history books as the first to win the championship four-times.
I have spoke with Rank at the Western Amateur in recent years, and at Blackhawks games he has worked at the United Center. He is a great ambassador for both sports, and he is not turning pro in the golf ranks anytine soon. I'm looking forward to seeing him back at the UC this winter.
THE BMW CHAMPIONSHIP tee's off at Medinah next week. Our coverage starts later this week, so stay clicked in for all the details of golf returning to Medinah Country Club. But first let's see who wins "The Open". RS