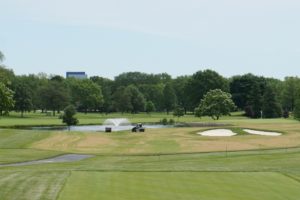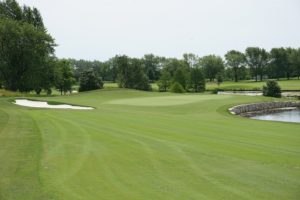 THE SCHAUMBURG GOLF CLUB at 401 North Roselle Road, has reopened most of the BAER NINE, with the final holes 17-18 coming online soon. Phase 3, the final phase is now under construction on the Tournament Nine, and should be ready to reopen in July of 2020. For tee times call the club at (847)-885-9000 or see Schaumburggolf.com  ______________________________________________________________________
IT's tournament week for the John Deere Classic.
Zach Johnson a past champion and John Deere Classic Board member, spoke to the media this week about the classic.
Later Matthew Wolff the winner of last weeks championship, visited the media center.
First on the tee is Johnson.
"This place helps me get into a groove, I am very familiar here and excited to be here. This tournament does a lot for me and the community, I'm estatic to be back."
"The competitor in me feels like I can still go out and win and that's my full intention this week. I love the golf course and I love thr progression of my game right now. Just because people shoot 15-20 under here, doesn't mean it's a bad golf course. We just are good players and will get after it"
"When I was 20, or 21 I was trying to crack the top five players at Drake University. Now there are players out here winning at that age. There was just a 15 year old at Wimbleton, are you kidding me. That's great. The kids today might not undertsand what it means to throw your clubs in thr unk on the Hooters Tour and spend nights in Motel 6 or a Super 8."
"There has been a lot of frustration in the 2019 season, because I have put the work in and I'm not seeing the results. That's just the way the process has been. I didn'tknow until somebody posted on social media my world ranking is now out of the top 100 and I'm at 103. But at 43 I am a realist and understand that age can be a factor. But 100% I'd like to play for Steve (Stricker) at the Ryder Cup next year."
MATTHEW WOLFF
On last weeks win. " I don't know if it has really settled in yet. It's been pretty unreal the last few days, and there has not been a lot of sleep. But getting my card has taken a lot of weight off my shoulders."
ON TPC DEERE RUN
"My caddies told me that this course would be a little like what we played last week, with the way it sets up. But after playing the pro-am on Monday, I realized the course suited my eye pretty well and I like the look of it. The course is in great shape and the past champions here are pretty decorated guys. It's an event that people know about and rave about. I'd like to get my second win here this week.
ON BEING PICKED TO WIN THIS WEEK
"That was really special, and didn't know that until I saw it on Twitter. Obviously Vegas isn't always right, but it's really cool to see that."
The Gog Blog returns tomorrow. RS