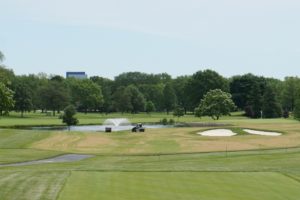 THE SCHAUMBURG GOLF CLUB-401 N. ROSELLE ROAD has opened part of Phase 2, on the golf course renovation. THE BAER NINE has 7 of it's 9 holes open, with holes 17-18 to open later this month. So come out and enjoy the first 16 renovated holes, or some good food and beverages in Chandlers Chop House. The newly extended practice range and putting green, and improved shortgame area are what any golfer needs for a fully enjoyable golf experience. See Schaumburggolf.com or call (847)-885-9000 to learn all the club offers. Construction has now started on the Tournament Nine.  ______________________________________________________________________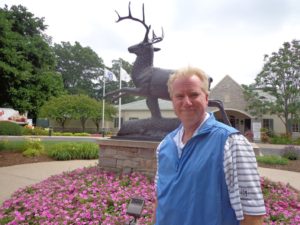 THE GOG BLOG-by Rory Spears-Director of Content and Creation. Follow Rory on Twitter @GogBlogGuy, Linkedin and Facebook. At TPC Deere Run in Silvis Illinois. The John Deere Classic weeks begins on Monday, and runs through Sunday July 14th.
THE BEN HOGAN Golf Company after having a multi-million dollar sales increase in 2018, has launched a new line of forged irons. The new irons are an upgraded version of the PTx line that was released in 2016. The new PTx Pro Irons were developed, for serious golfers who demand top level performance. They are built with a multi-step process that combines multiple materials into the club head. Mid Irons 4-7 are hollow and made of a forged 1025 carbon steel frame and forged MS300 steel face for a comfortable feel. Short Irons (8-PW) have lightweight Titanium inserts allowing for weight disbursement throughout the clubhead.
The Hogan Company feels that, "these are type of irons that Ben Hogan would design today, with current technology," says Scott White, President and CEO of Ben Hogan Golf Equipment Company. The 7-piece PTx PRO iron set sells for $770.00 for more information please visit BenHogangolf.com or see Ben Hogan Social media sites. The Ben Hogan website has been recently upgraded for better views of equipment.
GOLFZON SIMULATORS have been awarded the Best Simulator/Premium for the third straight year by the Editors of Golf Digest. GOLFZON uses a swing plate instead of a standard mat, so golfers can hit from fairway, rough or sand positions. The backdrop includes courses form over 160 top golf venues around the world. For more details on the highest rated simulator on the market see Golfzongolf.com.
THE PITCHFIX divot repair tool, was also named the Best Divot Tool for the third straight year by the Editors of Golf Digest. Pitchfix Fusion 2.5 can be found online at Pitchfixusa.com.
Len Ziehm a member of the newly elected Illinois Golf Hall of Fame Class of 2019, is on the road again finding new golf travel destinations.
This time Ziehm has hit the road in the great northeast, and his stops included golf in Poland. Poland Maine that is.
Ziehms recent travels included Rochester NY, and Valley Forge Pennsylvania. Through Rhode Islandon the back end of his trip, before back to Florida. He returns to Illinois this week and settles in at the John Deere Classic.
OUR BIG 3 partner has his stories posted at Lenziehmongolf.com., the Daily Herald on Wednesdays, and every issue of Chicagoland Golf, and the Chicago District Golf Magazine.
KEVIN FRISCH PR one of the leading Golf PR firms in America, based in Gaylord Michigan, has announced that Carl Mickelson has joined the firm as Sr. Vice President. Mickelson's main focus is client and media relations, along with business development.
"Carl and I realizedseveral years ago, we share a similar vision for helping clients with a similiar approach to PR and business," said owner Kevin Frisch. "I'm excited about the impact Carl will have helping our current clients. More details at Kevinfrischpr.com.
FROM THE DESK of Carl Mickelson. Island Resort and Casino in Bark River Michigan, has announced it will host a major NCAA Division Golf tournament, this September 1-2 on the recently opened Paul Albanese designed Sage Run Golf Course. 10 schools will compete in the Island Resort Intercollegiate, that will be 54 holes and hosted by South Dakota State University. More details at islandresortandcasino.com.
MORE FROM CARL-V1 Sports a golf industry leader in video swing analysis softwear for golf teaching professionals, announces an online V1 shop cutting edge camera technology. If you want camera systems that match with the V1 Pro that can be purchased right from V1sports.com.  Budget friendly items that include HD Camera Pack and a Premium Camera Pack are complete with V1 USB3.0 camera's with an advanced lens, and 10-meter cable and a tripod or wall mount. For more information on V1 camera and teaching video products see V1sports.com or social media accounts.
THE BBC has reached a deal with the ladies European Tour to broadcast this years Solheim Cup, from September 9-15 at the GelnEagles resort in Scotland. Visit SolheimCup2019.com for full details of the programming for Solehim Cup week.
COG HILL has a variety of July specials, including family golf, range specials,bringing your junior golfer to the golf course. Some great alcohol taste testers at the month. For more information on what new at Cog Hill all month long, see Coghillgolf.com. Or call the club at (866)-Coghill.
The Golf360 golf program returns tonight Sunday July 7th, on NBC Sports Chicago.
This months features include. A look at the famed French Lick Resort, in Indiana. How Batavia Based Tour Edge golf clubs is making it's mark on the PGA Champions Tour.
A look at Instruction from the IPGA. The trio of courses operated by the Dupage County Forest Preserve District, including the Preserve at Oak Meadows, that will host a USGA Women's Amateur qualifier this Tuesday the 9th. For more information see Linksvideo.net/golf360tv.
THE WHITE EAGLE COUNTRY CLUB in Naperville, has started a bunker program, that includes improvements to the tees and greens. The club has hired the Bob Lohmann and Todd Quitno golf architecture firm to oversee the project. No serious maintenance has been done to the course, since 1987 when Arnold Palmer came to open the final nine holes.
Bunker positioning is still placed where the golf ball would fly in the late 1980's. Greens side bunkers will not be cut to the edge of the greens. To prepare for the current work, the club did some tree removal in 2018. The clubs new shortgame area does include two USGA greens, one for chipping and putting. The other for pitching from fariways. The project is rotating through nine holes at a time, and should be completed by the fall. More information on the clubs website.
THE SALAMANDER HOTEL AND RESORT CHAIN that includes places like Innisbrook and Hammock Dunes, is now annoucing it's newest propert in Half Moon Bay Jamaica. Details at Salamanderhotels.com.
Bay Harbor and the Heather Course at Boyne Highlands, werr both named in the Top 100 Public Golf Courses in America, by Golf Digest.
Both courses are among the 10 courses owned and operated by Boyne Resorts.
Both courses and properties have won numerous awards from various national golf publications.
Bay Harbor was designed by Arhtur Hills in 1999 and the Heather Course at Boyne Highlands was designed by Robert Trent Jones Sr.. The Inn at Bay Harbor has received awards as a Best Resort and Best Spa. For details on a golf stay at Boyne Properties visit Boynegolf.com.
MIURA GOLF has announced a new High Bounce Tour Wedge (HB). The newly styled club head aligns the golfer allowing for better accuracy. It uses soft carbon steel, the Tour Wedge HB has a wider sole that tapers from toe to heel, which gives the middle of the sole a more effective bounce.
PGA Tour Miura ambassardor Abraham Ancer has put it into his bag, and has used the club on the PGA Tour. Lofts are available every 2-degrees from 50-62. For more details on this new wedge see Miuragolf.com.
The greatest golfer of all time Jack Nicklaus, has donated his longtime  Gold Rolex watch for charity.
The Rolex style that was launched in 1956, was first given to Nicklaus in 1967. It was the only watch he wore for years, and is the watch seen in many of the pictures, when he held trophies from his 18 major championship wins.
The auction run by Phillips at 450 Park Avenue, will put the Nicklaus watch up for auction on December 10th.
THE CDGA AMATEUR was decided on the 37th hole at the Glen View Club. Jordan Less of Elmhurst and the Oak Brook GC, defeated David Perkins from the Quail Meadows GC of East Peoria.
Both players matched each other for mostof the holes, and neither player ever held a lead of more than 2 up. Less who won with a par, called it "my first win since junior golf."
Perkins the defending champion called it "an exciting match, and a fun day." Both players are headed for the Illinois State Amateur Championship at Cantigny Golf from July 16-18th. Details at CDGA.org.
ARCHITECT RAY HEARN of Holland Michigan (Flossmoor CC-Mistwood GC) has launched a Blog. Hearn's Blog can be found at RHGD.com. hearn decided it was time to share some of his professional golf design insight, which includes Turgrass Science, Soil Science, landscape architecture,and golf course design. Hearn's career has run 33 years, Renovation Ray as he is known is also an Evans Scholar.
CLUB CHAMPION reports that 2018 very a very succesful year for the company. Just five years ago the company has only five locations. Now with 62 locations, Club Championstores do anywhere from 500 to 1,500 fitting per store. Not only is store revenue up, but CC sales in general.
Golfers are wising up to the fact they need a fitting before buying clubs, and during an era where online purchases have grown, thebrick and mortar stores of Club Champion continue to be in demand. Clubc has multiple stores in the Chicago area, with the newest opening being the Schaumburg Store located on Golf Road. For more details on Club Champion fittings, visit Clubchampiongolf.com.
AROUND THE WORLD GOLF…….
From the people who bring you Cabot links and Cabot Cliffs in Canada.
Welcome to their newest property, for when it's a little cold up north.
Cabot Saint Lucia, with Cabot's third golf course. Cabot St. Lucia will have a 375 acre property, in Cabot's second resort in their rapidly expanding portfolio.
Cool sea breezes, white beach sand (probably in the bunkers too), and stellar ocean views await.
Ground breaking is underway. Cabot Saint Lucia-coming soon.
AT THE WENTWORTH CLUB IN LONDON-The Gary Player Invitational will take place on July 22nd. Many of the legends of Golf will join Gary in rasing money for the Player Foundation, and it's goal to raise $100 million by the year 2025. The field is 72 players and top business leaders.
SIR NICK FALDO has opened Laguna Golf Lang Co's award winning PAr 71 golf course in Vietnam, Asia's new hot tourist destination. World Class hotels and more. See Vietnam Laguna Golf, by Sir Nick Faldo.
The Gog Blog Speaks Out returns on Monday. RS