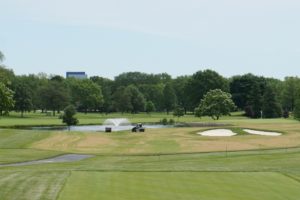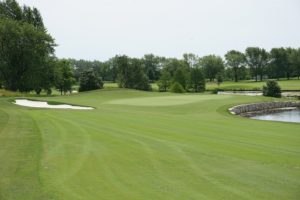 THE SCHAUMBURG GOLF CLUB has reopened most of the renovated BAER NINE, as the second phase of the golf course renovation wraps up. Holes 17-18 will open later this month. For tee times call the club at (847)-885-9000 or visit Schaumburggolf.com.    ______________________________________________________________________
The Roscommon Michigan golf destination known as Forest Dunes, continues to add to it's scenic and highly rated property.
The construction has started on a new 10-hole, par 3 golf course. The new golf course will be located on a piece land, that sits between the Loop, and Forest Dunes courses.
And close to the practice area, the clubhouse and HillTopPutting course.
The new course will have 10 fun and strategic holes, that will range between 50 and 155 yards. And the overall yardage will be 957 yards.
Forest Dunes owner Lew Thompson considered several top rated architects, before electing to hire Riley Johns and Keith Rhebb. Both have worked on well known projects with Ben Crenshaw and Bill Coore in past years.
Johns and Rhebb received recongition for their work, at the Winter Park Nine in Orlando Florida. Johns has worked at Forest Dunes before, under Tom Doak. During the construction of the Loop course.
"We're thrilled how quickly this project came together this year with the huge amount of trust that Lew has given us," said Johns. "He wants a golf course that will be fun and playable for his grandkids and any golfer of any skill level, so that's the main goal we're keeping in mind as we build holes where you can play a vairiety of shots and trajectories and take different angles to get to the hole."
The overall look should be visibly enticing to golfers. Fesuce features will be in some areas of the course. With the bentgrass greens to be sloped, this help's shots feed near the hole. Bowl shaped features resembling catchers-mitts or table tops await golfers who play the course.
"When you come to Forest Dunes, we want you to have a good time," says Thompson. Who add's he will allow music-eightsome's and barefeet if that's what it takes to make the game fun.  What Kieth and Riley are building is going to bring life and energy to the property. It's going to bring people together, and make their time at Forest Dunes more enjoyable."
One of the features in the design, is that holes 1 and 10 will be crossover holes. A tree protects direct ball flight complications. Because the course is in the central area of the property, golfers on the Par 3 course could have a gallery.
So with course is expected to be ready next summer (2020). Work was started, as soon as possible, this summer. Because grassing of the course starts in August.
To learn more about Forest Dunes, please visit Forestdunesgolf.com.