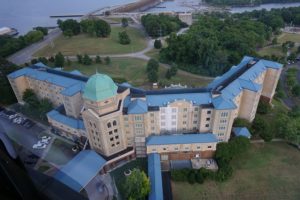 THE MARRIOTT FLORENCE-MUSCLE SHOALS from the Elevated 360 Grille Restaurant above the hotel. THE SHOALS-36 holes of golf. See RTJGOLF.COM            ______________________________________________________________________
IT'S U.S. OPEN WEEK, and that is always a wonderful thing, and one of the highlights of golf season.
It is sad that it's the last major of the year on U.S. soil, because I do like having a major in August. Maybe having the BMW at Medinah will feel like a major.
Pebble Beach gets the call this week, and it should be a good one. Pebble always is.
The great players have won here U.S. Open week, and done it in different ways. Blowout wins, late chip-in's and more. The drama this time around, should be great like in the past.
The favorites are Dustin Johnson and Brooks Koepka, and they should be. Koepka is going for history. He is the first golfer since Curtis Strange at Medinah in 1990, attemptiing to win three U.S. Open's in a row.
Koepka could win this week, and it would surprise nobody. Four majors in two years is pretty special, five would be even better. With a win Koepka would equal Willie Anderson's record, now over 110 years old.
Last week the odd's makers were not giving Rory McIlroy much of chance. You could have Rory in the Vegas betting parlors for 16-1. Then McIlroy goes crazy and wins the Canadian Open in record fashion, with a 61 on Sunday. He is no longer 16-1. But the third choice of the book-makers. Is Rory ready to win the U.S. Open again, because he won the Canadian Open. Hard to say, but he better start quickly, and not wait until Sunday to make a charge.
PHIL MICKELSON will be the sentimental favorite. Trying for his first U.S. Open win and the career Grand Slam. Nobody would be picking him, if he had not won at Pebble 4 months ago. This could be his last real chance to win a U.S. Open, with age and health working against him. His birthday is on the weekend, you will hear people singing for him. Maybe cheering him on as well.
What about Tiger. What about him? His tank looks a little low, since his win at the Augusta. He was not a factor at the PGA, at Bethpage where he had won before. So what makes Pebble Beach any different. He could finish respectable, and he could miss the cut.
THE BROADCAST TYPES at Fox Sports will be under the gun again, to get it right. Can they come through. I'm not happy with the late finish, especially in round three. It backfired on NBC in 2010. Early players enjoying warm sunshine, and leaders freezing on late holes as the temperatures dropped by the back nine.
FINALLY THERE IS THE USGA, can they get the set-up just right this time. Nobody wants to see Phil double-hitting a ball again. Or replays to see if a ball is vibrating. I just hope the par 5, 18th hole decides a winner with a 25 foot birdie putt. Something that would resemble Payne Stewarts putt to win the U.S. Open, like he did 20 years ago this week.
The Gog Blog returns on Wednesday from the Johnny Morris Big Cedar resort near Branson. Enjoy the Open.