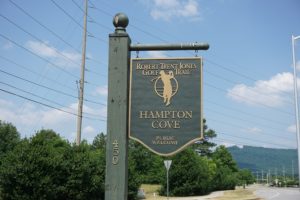 GOLF ALABAMA visit the courses of the Robert Trent Jones Golf Trail. See Rtjgolf.com  ______________________________________________________________________
BAMA-ROLL TIDE… Roll Golf Ball and yell War Eagles, all in a weeks work, when you tour the Robert Trent Jones Golf Trail, that zigs and zags through the state of Alabama.
I didn't get to see the majority of the RTJ Trail, that spreads out through the state, and is 26 courses on 11 sites, and is 468 holes. So much golf, not enough time. Calls for a return to Bama I would think. I tee'd it up on four of the 26 courses, and played 72 holes of the RTJ Trail. Plus 18 more holes on the FarmLinks Course, that is now part of Pursell Farms. All-in-all, a good week. What I did learn is that golf is not the only "trail" in Alabama. Try hitting the Marriott Hotels that are close to the trail courses, and you will find a "Trail of Spa's". Which will get bigger because they are expanding and adding a few more.
I had golfed in every southern state except Alabama, so this trip was a must do. In addition I was tired of golf here in Illinois, that was played in cold weather, deep rough and wet conditions. And no roll on the golf ball either.
While the Alabama temperatures weren't steamy hot, it did get a little warm for a few holes here and there. While major threats of rain were lurking most of the week. The rain only appeared for a few holes on two of the five days….phew. The RTJ Trail is public golf at it's finest, and Alabama deserves a lot of credit for how they pulled this off. THERE IS NO-WAY Illinois could do this, politics would get in the way and likely ruin everything. Like it so frequently does in the Land of Lincoln.
I started at the top of the state in Huntsville, where they build rockets for NASA and support the space program. It's a quick flight down from O'Hare on American Eagle.
HAMPTON COVE has 54 holes and I played the River Course, the only course without a bunker. If you hate getting out of sand traps, the River Course is for you. I had fun playing the par 5, 8th hole from the tips at 678 yards. Water comes into play on 16 of 18 holes to challenge golfers.
NEXT STOP MUSCLE SHOALS the Marriott Shoals has one of the great restuarants you will find anywhere. John Cougar once sang, "get a leg up", but here at the Shoals you will get a dinner up, way up, in the states only revolving restaurant. The 360 Grille Restaurant has views for miles, while over looking the Tennessee River.
The Shoals has two golf courses. One is the Fighting Joe course and the other is the Schoolmaster Course. Votes from the staff are split on which course is better.
I only got to play Fighting Joe, which at over 8,000 yards is a fight. I did play the 716 yard par 5, 12th hole, at 716 yards. Who goes all that way to lay up.
It is now the longest hole, I have ever played. By the time I was through, I was calling Fighting Joe, Jungle Joe, for all the high weeds on each side of several holes. Since I was breaking in new clubs, I wasn't sure where each shot was going. What I do know, is that in over some 3,000 career rounds of golf. Only 3 times have I lost 10 or more golf balls in a single round. This was one of them (-10). When I do go back to Alabama, I won't seek a rematch with Joe, not worth it.
Muscle Shoals is home to the some of the most famous recording studio's of all time. Including Rick Hall's Fame Studio. Get the DVD and watch the documentary, well worth it.
DAY 3 of our trip, was the stay and play at Pursell Farms, see my story from yesterday. Pursell Farms and the FarmLinks golf Course was the highlight of the trip. Awesome place.
GRAND NATIONAL'S Lake and Links Courses closed out the trip, and I stayed at Marriott Opelika, near the University of Auburn campus. It too has a spa that you should visit, especially if you need a massage or some relaxation.
The Lake Course has plenty of water as it circles around a lake (of course). It was the most scenic course of the trip.
The par 3 16th hole, is pretty, get your camera ready. But it's not a shorty like 17 at Sawgrass. The tips are at 230 yards, and from there the next tee box is at 182 yards.
The Lake Course has it's share of water, but plenty of room to play golf, and move the ball around. It was maybe the most fun course I played all week. Add it to your must play list, when you visit "Sweet Home Alabama".
The final 18 holes was the Links Course at Grand National. Good course, but our group of media types enjoyed the Lake Course better. The Links Course has it's share of what I called "Twisted Fairways". You know the ones where there isn't a lot of fairway that leaves you flat spots for shots. There are plenty of mounds, uphill-downhill lies, bunkers and some water.
When playing the downhill par 4, 17th, my partner noted it was fun to finally play a downhill hole. RTJ always did like elevated greens, and there are several of them.
SO 4 DOWN and 22 Trail courses to go. So like Arnold said, not that Arnold, I'll be back. You should visit too, the RTJ Trail is a neat concept. Too bad Illinois isn't smart enough to do something like this.
OTHER NEWS…ROAR-REE, McIlroy heats up for the U.S. Open with a final round 61 to win the Canadian Open. Is he ready for another?
Our U.S. Open preview runs tomorrow. How about Hank Haney, dishing it back at Tiger Woods. Well said Hank.
THE GOG BLOG RETURNS TOMORROW, and then I'm off to Branson to Preview Ozark National and the Johnny Morris built Big Cedar Lodge. RS