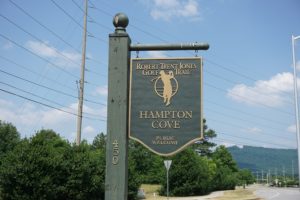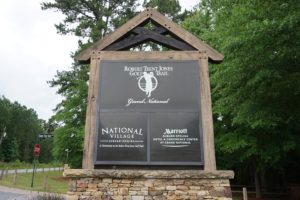 WELCOME TO THE ROBERT TRENT JONES GOLF TRAIL-Alabama See rtjgolf.com   ____________________________________________________________________
FarmLinks is, for those who might be hungry, not a promotion for Bob Evans Restaurants and their famed "smokey links."
But being down on the the farm in Alabama, while playing on the states top rated public golf course, means you're at Pursell Farms in Sylacauga.
While you do get great southern style food on property, visiting this destination property means more than good food. Because, if there is any property in Alabama that serves up southern hospitality, and golf at it's finest, it's Pursell Farms.
The name on the front gate has now changed from FarmLinks to Pursell Farms. But FarmLinks is still the name of the golf course, designed by Dr. Michael Hurdzan and partner Dana Fry.
The course was opened for play in 2003.
Yardage on the golf course ranges from 7,444 at the tips, to 5,250 from the front tees. FarmLinks plays to a par of 72.
The history of Pursell Farms dates back well over 100 years. According to stories from the area's history, there has been everything from battles with Indians, to visits from famous Spanish explorers. In the town of Childersburg just 11 miles away, that dating back to it's Indian heritage, is one of the oldest townships in the country. During WWII, Childersburg was home to a munitions plant, that among other things, helped produce "heavy water" needed for the  making of the atomic bomb.
Jimmy and Chrissy (nee-Parker) Pursell, were married after being introduced by the  area's most famous celebrity, Jim Nabors. Who not only sang at the couples wedding, but served as Jimmy's best man. The friendship between Nabors and the Pursell families has lasted a lifetime, that meant nearly 70 years. Nabors would travel to Pursell Farms almost every year, to see his long time friends.
As time went by, Nabors told current owner co-founder and CEO David Pursell and his wife Ellen, that his belongings from his Beverly Hills home were stored in two storage facilties in Honolulu, where Nabors had moved to after leaving California. David and Ellen flew to Hawaii just prior to opening the Inn, and went through boxes with Nabors for three days. Several notable items from Nabor's collection, were shipped back to the Inn at Pursell Farms, and are on display for guests to view.
They include Nabors Brunswick pool table. Hollywood celebrities including Frank Sinatra, Dean Martin, Sammy Davis Jr, Ronald Reagan, Burt Reynolds, Loni Anderson, Jackie Gleason, Bing Crosby, Carol Burnett, Lucille Ball, Jackie Gleason, Tim Conway, Michael Jackson and the rest of the Jackson Five, are all known to have played games on this table. Guests of Pursell Farms can play pool on Nabor's historic pool table that is located in Old Tom's Pub.
Pursell Farms has the original script books from Gomer Pyle USMC, and the Jim Nabors Variety Hour. These are the books that Nabors studied to learn the lines for the shows. An attempt was made to get the books from the Andy Griffith Show, but those could not be located.
When Nabor's completed Gomer Pyle USMC, the family that owned General Mills, the shows main sponsor for 6 years. They sent Nabors a 300 piece pewter collection as a gift. The entire collection were comprised of antiques, with some pieces dating back to the 1600's. That collection is now part of Pursell Farms.
Before the over 3,200 acres of land that is now Pursell Farms, it was called Farm Links. Farm Links opened in 2003, as the world's first (and only) Research and Development golf facility. Serving in a way to help golf course superintendents study grass and fertilizers. David Pursell who was serving as CEO for the families fertilizer business called Polyon, would bring in superintendents for a three day-two night program, hoping to get them to switch their home courses to Polyon fertilizers. Over 10,000 golf course superintendents, many of them from Top 100 rated golf courses, came and took part in the seminars. As a result, Pursell Technologies went from #6 to #1, in the sales of controlled release fertilizers for golf courses.
In 2006, the Pursell's made the decision to sell the fertilizer business, but not the family farm or the golf course.
Because of the leadership of David Pursell, the property has become a golf destination property.
The FarmLinks golf course has been rated the #1 public course in Alabama, for 8 of the last 9 years, by one national golf publication. FarmLinks hosted the Alabama Men's State Amateur Championship in 2011. It was won by current PGA Tour player Smylie Kaufmann.  Kaufmann shot 16 under par over four days, to win the championship. And nearly won himself a green jacket in Augusta a few years later. Kaufmann shot 16 under par over four days, to win the state championship.
David Pursell trained as a graphic artist at Auburn University. His artwork on display at Augusta National in the Butler Cabin, along with Shoal Creek Golf Club and the Greenbreir Resort in West Virginia. But he is extemly proud of his design that serves as the logo for Pursell Farms. Pursell's created logo, is a longhorn cattle swinging a golf club, in the style and attire of the great Bobby Jones.
No top destination golf course is complete without a dynamic signature hole.
While an argument can be made for the par 3, 17th hole called Big Gulp. The is no doubt that the par 3, 5th hole Hang Time, is the signature hole.
Sitting 170 feet above the 4th hole, golfers enjoy a scenic drive up a cart path. It's 17 stories above the green below. So get your camera's out.
While most golfers enjoy the challenge of hitting the green. The 5th hole has recorded more hole-in-ones, than any other hole at FarmLinks.
David Pursell says that with over 3,200 acres, there is room to build two more golf courses at Purcell Farms. After playing FarmLinks, golfers will be anxious to see when a second course might be announced.
The great view from the tee boxes of the fifth hole, can be topped by one other location at Pursell Farms. It's called the "Secret Place", a lookout from the top Chalybeate Mountain, that sits over 1,000 feet aboove sea level. Because it sits so high, visitors can enjoy views into four area counties.
If your ready for the best southern hospitality in Alabama, visit Pursell Farms and the FarmLinks Golf Course at, Pursellfarms.com or call (256)-208-7640. Purcell Farms is found on Facebook, Twitter and on Instagram. #golfatthefarm.