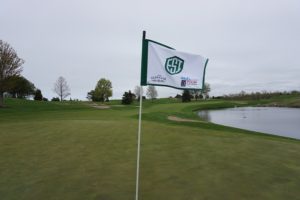 THE 1ST EVANS SCHOLARS INVITATIONAL-on the tee this week at The Glen Club.     _____________________________________________________________________
GOLF IS BACK. So is Brooks Koepka the main driving force in golf today.
When Jim Nantz of CBS called out the golf media this past week, for not giving Koepka the credit he deserved. One wondered what it would take to get things back on track.
A 2-shot win for Koepka's fourth major championship in 23 months is what it took. By doing so, Koepka became the first player in golf history to hold, two PGA and U.S Open titles at the same time.
Well Koepka's finish in terrible windy conditions wasn't solid, his start the first two days was as good as it gets. Koepka held the biggest 36 hole lead in championship history, and in the end, only Dustin Johnson mounts a charge that could have dashed Koepka's bid to win a second Wanamaker Trophy.
Nick Faldo nailed it on the head, when he said on Saturday that Woods showed up unprepared to tackle a tough Bethpage Black Golf Course. Woods was nine back after Round 1, and 17 shots in back of Koepka after 36 holes. Because Woods was +5 he missed the cut by a shot, and golf was back on track for an exciting weekend. Analyst Brandel Chamblee picked Woods to win, and wished he hadn't. Calling Woods both foggy and showing up unprepared to play.
While Nantz mentioned Woods 4-times in the first 30 minutes on Saturday, and should have been given a 2-shot penalty right there. He righted the ship as the third round progressed, with Faldo bringing some real doses of reality. Reality was the golf media having to shift gears and start giving Koepka a serious look. It was amazing how many of the media thought golf was in a great place with Woods win in Augusta. They thought people would flock to play golf, and start buying new golf balls and shirts. I didn't believe that for a minute. That golf boom around the Chicago area didn't happen. The weather has played havoc on our golf season so far this year, and Woods win couldn't or didn't change anything.
By Sunday however, CBS was looking for some drama, and got it as Koepka struggled getting home during his walk through the "Back 9 on Sunday". The sad part is that the CBS crew was almost cheering as Koepka made four bogeys in four holes, and his lead over Johnson shrunk to one. They wanted drama and not a Koepka landslide victory. But once Johnson made bogey on holes 16 and 17, Koepka had all the space he needed. So CBS moved on to crowning Koepka as the new force in golf.
When it ended, golf had gotten the new superstar it was looking for. A player that will have people playing the game of golf, and wanting to see more. Galleries were huge all weekend long, even without Woods. It didn't matter who was playing, New York fans turned out in force.
Did the PGA Championship garner the attention with it's move to May. It's hard to say. The NHL and NBA playoffs are still going on, and the Preakness was running. What may have been a saving grace, is the Eastern Conference Finals wrapped up early, and the Kentucky Derby winner Country House wasn't running at Pimlico.
One thing for sure. I expect both Johnson and Koepka to be running strong at Pebble Beach, and there could be quite a rematch in the making. The U.S. Open has some serious drama heating up. A new war by the shore. Johnson has played great at Pebble Beach in the past, including win's during the PGA Tour event there. Johnson, Koepka and maybe even "Lefty Phil" should be in the mix come Father's Day Sunday next month.
THE MEDIA hook up with 2018 John Deere Classic Champion Michael Kim today at TPC Deere Run. I'll have some preview later in the week. The Gog Blog is back this week, the 1st Evans Scholars Invitational tee's off on Thursday at the Glen Club. The admission is free, come out and support golf and the caddies of the Evans Scholars.
THE RAIN NEEDS TO GO. I saw and heard there are some courses that really need to cut the grass, lets save the U.S. Open rough for Pebble Beach.
Little-by-little it's warming into golf season. Go play. My new clubs are here. I'm ready. RS