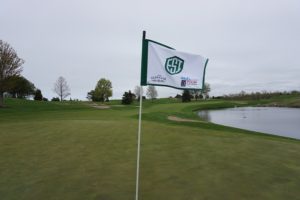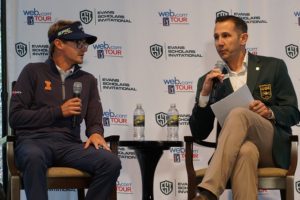 THE EVANS SCHOLARS INVITATIONAL tee's off this week at the Glen Club starting on Thursday and runs through Sunday. Web.com tour player and former Illinois star Dylan Meyer with WGA-VP Vince Pellegrino. Free tickets available ESInvitational.com.   _____________________________________________________________________
THE ILLINOIS PGA started it's Senior Major season with the Match Play Championship at Shoreacres Golf Club in North Chicago. But is was a professional at a club on the south side of Chicago, that came away as the winner.
Beverly Country Club's John Varner, defeated Ivanhoe Country Club's Director of Golf Jim Sobb 1Up. To win the championship and take home the trophy.
It was Varner's first win in his Illinois PGA career. Varner birdied the par 5, 18th hole to win the match.
"It was a back-and-forth match," said Varner. "I started off hot, but then both of us went a little sideways towards the end of the front nine. We both got aggressive on the back nine and started making some birdies. There weren't very many holes that were tied."
Varner had a 2 Up lead after four holes, but lost holes six and nine and the match was All-Square at the turn. But then Sobb birdied 11 and 12 to take a 1 Up lead. The match went All-Square after 14, but Sobb went 1 Up with a win on the 15th. After Varner won the 16th to even the match, and then the players halved the 17th hole setting up the exciting finish, on the 18th green.
Varner advanced to the championship by defeating Mike Erwin from Chalet hills 6 and 5.
Because he entered the championship as the #56 seed, Varner had his work cut out for him.
It took extra holes (20) to win his Sweet 16 match, over Brett Packee from Northmoor Country Club.
But from there, Varner had to take on the #1 seed Roy Biancalana, who he defeated by a 3 & 2 score.
"I played great all week," said Varner. "I hit the ball well the entire event. My driver was good, and I was putting great, everything just seemed to click.
For more information on the Illinois PGA, please visit IPGA.com. Golfers on Golf thanks Nick Novelli for the championship photo. And also wishes to thank, Palmer Moody for his help on the recap. GOG wishes Moody the best on his transition to IPGA Foundation duties. GOG also welcomes Chicago area native Kevin Quinn to the position of IPGA Communications Manager.