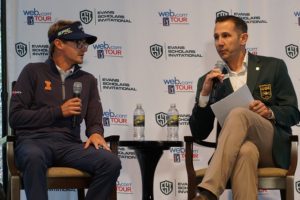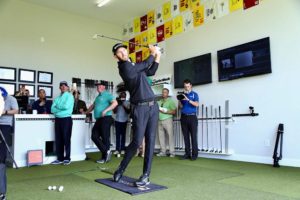 DYLAN MEYER and Vince Pellegrino WGA discuss the upcoming Evan Scholars Invitational at the Glen Club May 23-26. #webdotcomtour DUSTIN JOHNSON hits a long drive at the Dustin Johnson Learning Center at TPC Myrtle Beach site of this weeks NCAA Regional that includes both Northwestern and Illinois Men's golf teams.      ______________________________________________________________________
IT'S CHAMPIONSHIP WEEK and yes there is more than one.
The PGA Championship led by defending champion Brooks Koepka head to Long Island for what should be an interesting week of golf. As the years final major is now second on the list.
The USGA has a championship this week of their own. The U.S. Sr. Women's Open is up for it's second run, this time not in Chicago, or Wheaton at the Chicago Golf Club. But in Southern Pines at the late Peggy Kirk Bell's, Pine Needles Resort. Laura Davies goes for three straight majors on the senior ladies circuit.
The media days continue to tee off this week. Today it's the Bill Coore and Ben Crenshaw designed Warren Course in South Bend. Home of the 2019 U.S. Senior Open, with defending champion David Tom's in the house.
Wednesday it's Mistwood Golf Club in Romeoville, to preview the Phil Kosin Illinois Women's Open. Mistwood will also show off some changes to landscaping around the golf course.
On a personal note. I'm told my new clubs should be here by Tuesday. That is always a good feeling, to go through a fitting process, and then finally get the goods to put in the golf bag.
IT WAS nice to hear CBS Golf Anchor Jim Nantz, tee up the golf media for a lack of coverage on defending champion Brooks Koepka and other top players. Because most of it seems to focus on one player since the Masters. Never a good thing. Golf has been down this road before and it almost killed the industry. Hopefully golf is back on track come Sunday night.
Do I really need to know that someones yacht has been spotted. So what !!! Now if a German U-Boat appears and puts a torpedo in the side of it, then we have a story.
IT WAS A GOOD WEEKEND for golfers with Illinois ties. Doug Ghim has a great run at the Byron Nelson, wrapping up at 15 under par. Former University of Illinois Golfer Luke Guthrie had a great finish in Kansas City, on the Web.com Tour after having the 36 hole lead. (Dylan Meyer missed the cut).
STEVE STRICKER had a big 2 shot win on the PGA Champions Tour (-14)holding off some big names on tour.
The weather is supposed to finally start turning for the good this week. One can only hope. With that I'm off to South Bend, for the second time this year. Hopefully, it's a better day than what the NHL Winter Classic turned into.
GOOD LUCK to both the Northwestern University Wildcats, and the Fighting Illini of Illinois. Both schools are competing for a chance to go to the NCAA National Championships, in Arkansas 2 weeks from now.
More thoughts on Bethpage, Pine Needles and the Warren Course as the week continues. Congratulations to Garrett Chaussard on his win at Kemper Lakes in the first Illinois PGA major of the year, the match play championship.
Time to go play everyone. RS