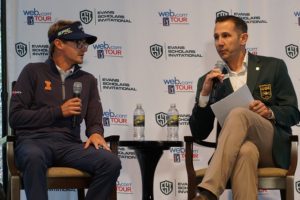 DYLAN MEYER and VINCE PELLEGRINO (WGA) discuss the upcoming Evans Scholars Invitational May 23-26 at the Glen Club. See RyderCup.com new packages for hospitality are now available. Come see the Ryder Cup at Whistling Straits Sept. 2020    _____________________________________________________________________
HE DID IT AGAIN. Skokie Country Club's Garrett Chaussard joined elite company, in becoming only the fourth player to win the Illinois PGA Match Play Championship in back-to-back years.
Chaussard defeated Brain Carroll from Royal Hawk Country Club, 2 & 1 in the championship match.
"Having not played much this year, it was a little surprising to come out striking the ball as well as I did," said Chaussard. "I was able to get into good rhythms in each match. Even if I hit a few poor shots, I was able to refocus and get a handle on things. Especially in the last match, even though Brian put pressure on me, I was able to stay patient and wait for good shots to happen."
During the championship match, only three holes of the 17 holes played were halved.
Chaussard got the early lead by winning the first hole. But after going back and forth through the next six holes, Chaussard won holes 8 and 9 and was 2up at the turn.
Click here to hear our interview with Match Play Champion Garrett Chaussard.
After losing holes 10 and 11 to lose his lead. Chaussard then won holes 13 and 14 to go 1up. Chaussard then won the par 4, 16th hole to go 2up. Because the par 3, 17th hole was halved, Chaussard had regained the title. He joined Bill Ogden, Bob Ackerman, and Curtis Malm, as the only players to defend the title in championship history. A third straight win in 2020, would leave Chaussard tied with Malm, and Ogden as the only three time winners.
Chaussard said one of the keys for the week, was closing-out matches before getting to holes 16-17-18. Those holes have been named "The Gauntlet" by the Kemper Lakes Golf Club.