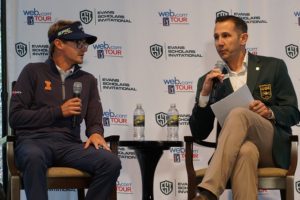 THE WEST BADEN Hotel at the French Lick Resort, Plan your visit at Frenchlick.com. DYLAN MEYER and VINCE PELLEGRINO discuss the new Web.com tournament the Evans Scholars Invitational (ESI) coming to the Glen Club from May 23-26. #WGAESF   _____________________________________________________________________
EVEN BEFORE Topgolf opens in Schaumburg this summer, there will be an invasion in Bear Country-Soldier Field Chicago.
No it's not the Green Bay Packers sneaking in, they will come and maybe lose their opener in early September.
But from July 11-14 Topgolf Crush, will be on-tap on the Lake Front.
Golfers and or non-golfers can go crush golf balls from the South Endzone of Soldier Field, and hit them at targets spread around the field. Can you make it from 43 yards, or likely even longer. Good thing your job and the season is not on the line. Coach Matt Nagy and his staff will not cut you if you fail to grade-out or score well.
Tickets are now on sale to be a part of this event.
"Soldier Field is excited to announce our unique partnership with Topgolf by offering golf at our iconic sporting venue," said Mike Kelly, General Superintendent and CEO of the Chicago Park District. "Soldier Field has a long history of offering distinctive special events from car racing to boxing, to ski jumping. The collaboration with Topgolf allows that tradition to continue. The Chicago Park District takes great pride in bringing one-of-a-kind experiences to Soldier Field. Not only do the events generate revenue to benefit the parks, they also allow the community opportunities to enjoy exciting special events at Soldier Field."
This four day event will have food and beverages, along with music for fun. You can enjoy all of this, before and after golfing. Topgolf merchandise will be available for purchase. Topgolf targets will be from 75 to 140 yards yards away from the teeing area. At night, targets light up and will glow for a night golf experience.
Prices range from $50 dollars to $105 for VIP tickets, that allows patrons to have access to a hospitality area.This includes food vouchers, drink tickets, and a limited version of the Soldier Field Topgolf Crush hat. A $10 dollar voucher, redeemable at any Topgolf location in the USA.
To get tickets for this special Soldier Field event, please visit Topgolf.com/crush.