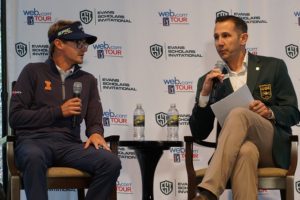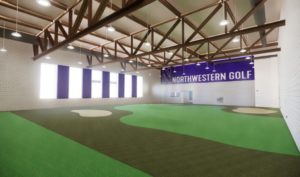 DYLAN MEYER and WGA SR VP VINCE PELLEGRINO discuss the upcoming Evans Scholars Invitational at the Glen Club May 23-26. NORTHWESTERN UNIVERSITY has announced a $5.7 million dollar renovation to it's Gleacher Indoor Golf Center. #CATS   _____________________________________________________________________
IT'S ALREADY WEEK 7 for Golfers on Golf Radio. With the weather the way it's been in the Chicago area, it's hard to believe we are seven weeks into our Golf Radio Season.
But this morning, Golfers on Golf Radio will tee it up at 10 AM, on the BIG AM 750 WNDZ.
Our guests this morning include, Northwestern University's Director of Golf Pat Goss, live from TPC Myrtle Beach the site of this week's NCAA Regional.
We will hear more about Northwestern's attempt to make the NCAA men's golf national championships in Arkansas in 2 weeks. Goss will tell us more about the improvements that are coming to the Northwestern's Gleacher Indoor Golf Center.
Around 10:30 Jon Claffey the Vice president of marketing for Tour Edge Golf based in Batavia, will tell us about their line of Exotics and the Drivers that have been a big hit on the PGA Champions Tour.
We will hear from Illinois PGA Section Match Play Champion Garrett Chaussard, who won back-to-back Match Play Championships with his win at Kemper Lakes Golf Club this past week.
WEEK 7 Golfers on Golf Radio on the tee at 10 AM-Am 750 the BIG WNDZ. Won't you join us.