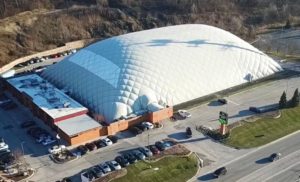 THE EVANS SCHOLAR INVITATIONAL coming May 23-26 at the Glen Club. Free admission via Edward Jones Financial advisers. Mistwood Golf Dome final days of indoor golf, before it's all Mistwood Golf Club outside. The Dome Rt. 53 Bolingbrook.      _____________________________________________________________________
GOLF SEASON NEEDS TO GET HERE. It really does. Golfers are so ready to get out and play.
The golf domes are being deflated, and or switched over to handle rained out Little League games.
Two big snow storms in April, are you kidding me. This is so awful because the outings, spring scrambles and more have not been played.
One club said it's junior golf night has been either, snowed out or rained out 2 weeks in a row.
IF YOU ARE LIKE ME and have ordered some new clubs, and still have them sitting in the box that Fed Ex or UPS delivered them in. That is a problem. If you need to switch batteries in the ball return of your practice putting cup, in your office or living room yet again. Something tells me you have worn out a spot in the carpeting.
THE MEDIA DAY season starts tomorrow at the Glen Club for the new Web.com event, the Evans Scholars Invitational. A fundraiser tournament, that will hopefully help push the Western Golf Association (WGA) to it's goal of putting 1,000 caddies a year into college.
DYLAN MEYER now on the Web.com tour and former Illinois standout, and 2016 Western Amateur Champion at Knollwood Club, is the guest speaker. I will have more from Meyer later in the week, and an update on the Glen Club as it gets prepared to handle a summer with a few tournaments. That includes the Illinois Open in August.
THE ILLINOIS PGA holds it's first major of the year this week at Kemper Lakes Golf Club.  The section's Match Play Championship, is on the tee. Here is to some warmer and dryer weather for the section professionals to compete in. Skokie Country Club teaching professional Garrett Chaussard is the defending champion.
SPEAKING OF KEMPER LAKES, word is that there are some improvements going on in the clubhouse and the pro shop, full details to follow.
NEXT WEEK is Championship Week. The PGA at Bethpage on the famed Black Course, and the second installment of the U.S. Sr. Women's Open tee's off in Southern Pines North Carolina, at Peggy Kirk-Bell's Pine Needles Resort. Laura Davies goes for two in a row.
Golf season is gearing up, even if Mother Nature isn't ready. Stay clicked in. RS