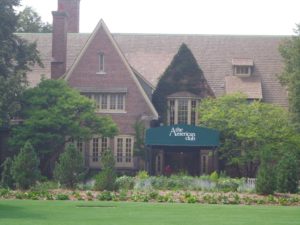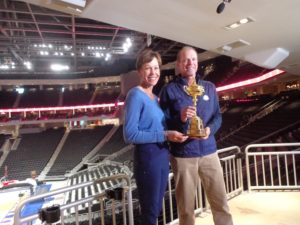 THE AMERICAN CLUB IN KOHLER and PGA of America President Suzy Whaley with 2020 Ryder Cup Captain Steve Stricker holding the Ryder Cup in Milwaukee Wisconsin. ______________________________________________________________________
THE PGA OF AMERICA, has now made two new hospitality offerings available, for the 2020 Ryder Cup.
These two options allow for spectators to purchase single-day tickets, and still have premium access packages to the matches.
SAMUEL RYDER CLUB, named after event founder Samuel Ryder, is the only premium daily ticket. Now it's available Wednesday through Sunday, September 23-27, 2020. This facility is located by the 10th and 18th fairway of the golf course.
THERE ARE ONLY a Limited Amount of these tickets left. The Club has a wide range of food, and beverages. Order now because customers can purchase nine tickets per day, and these tickets range from $800 to $1,900 each, and tax is not included.
THE STRAITS CLUB is a new package for those in need of hospitality, for groups of 10 people. This package is available from Wednesday through Sunday. Because this package offers a reserved table in a pavilion, and allows guests an all-inclusive opportunity. It so becomes an excellent way to enjoy the matches, and therefore while doing so in a comfortable setting.
Because of the option to buy more than one of these packages, they are expected to sell out shortly. These packages range from $6,000 to $15,000 (tax not included). There are weekly practice rounds, and match round packages now available starting at $12,000 (tax not included).
Ticket registration is now open for spectators wishing to attend, and buying individual tickets. The ticket process is available at RyderCup.com.
But this process is only open until,11:59 PM, on September 13th, of 2019.
There are ticket discounts for military. Details on military tickets, and or complimentary tickets for service personal are coming soon.
JUNIORS, free admission is for juniors up through 17 years of age. But juniors must be accompanied by an paying adult during practice rounds. Tuesday through Thursday. For those interested in travel packages, visit PrimeSport.com. More information is at Rydercup.com.
For more information on hospitality packages, contact Larry Sinclair at (502)-245-2000 or lsinclair@pgahq.com or, Nick Dockter (920)-565-6110 Nicholas.Dockter@kohler.com.