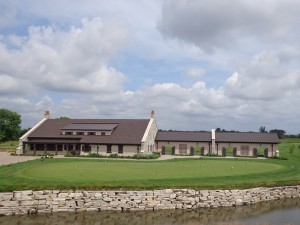 NEW BALANCE GOLF now making golf shoes for those on their feet, on the course. See Newbalance.com. The Mistwood Golf Club Performance Center. One of the Top 100 fitting locations in America says Golf Digest. Mistwoodgolfgc.com (815)-254-3333    ______________________________________________________________________
GOLF IS A GREAT SPORT, millions of people play the game.
Plenty of golfers up north are looking to put a very cold winter behind them. The thought is of getting outside and playing golf to many, is like going to opening day in baseball. It's more than just Game 1 of 162, it's the start of summer.
The same can be said for golf, that first round of the year, makes it feel like spring or summer has arrived. There are plenty of golfers who love the game, and just can't wait to go play.
They don't need any encouragement, other than no snow on the ground, some sunshine and warmer temperatures. Plain and simple. Golfers don't head for the course in droves, because somebody won a tournament. It doesn't work that way.
When you go out and say otherwise, and or post that on a social media network you insult a lot of people. If I'm an owner, a golf professional, a marketing director, a staff member or superintendent, and the director of golf or head professional claims they only have a crowded course because of the Masters winner. You just drove one in the face of everyone you work for, and or works for you. So think before you post, and believe in your product. If you don't, it's time to go work somewhere else. The WARM and sunny weather all weekend long, felt really good, and let's hope it stays for a while.
CLUB FITTING…I have talked about it all winter. Because it's really the best way to decide what clubs should be in your golf bag. So today, I will go through a fitting to determine what I need in terms of a new driver, fairway woods and irons. So i'm having two friends who need new clubs tag along, and work through fittings of their own.
If you think this is the year to lower your handicap, hit the ball a little further because you need to, then get to a club fitting now. Why spend the summer watching your handicap rise, continue to miss fairways, greens and putts. Are you the one filling up your partners wallets, after the weekly round every weekend. Are you the "D" player on your 4-player scramble team all the time. Do you have to buy the drinks all the time. How about having the joy of seeing a ripped drive go right down the fairway, because it is a great feeling. See that lofted mid-iron shot hit the green and from over 130 yards. Those wedge shots get out of the rough and the bunkers, so they land on the green.
My group and I are headed to Mistwood Golf Club to get it right. I'll have more on my club fitting process on this site, and on Golfers on Golf Radio in the weeks ahead.
The University of Illinois Men's golf team was second, behind the host Hawkeye's, at the Hawkeye Invitational this past weekend. Six shots behind Iowa.
TOPGOLF has now opened it's 50th venue, with the opening of the newest Topgolf in Greensville, South Carolina.
RS