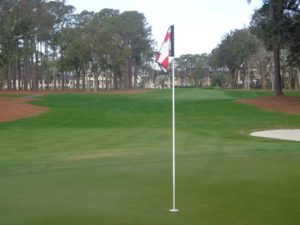 THE LIGHTHOUSE ON SEA PINES-AT HARBOR TOWN-The Heritage Classic coming this week from Hilton Head in South Carolina, On to bigger & better, see Seapines.com  ______________________________________________________________________
OUCH-GOLF TOOK A DOUBLE HIT yesterday. Can it survive, time will tell.
From a local standpoint, 6 inches of the white stuff on April 14th should not happen. Some reports have a few days later in the week in the 70's. Now that is what we need it, and need it quickly.
Some spring scrambles, and other golf events had to take a rain check. Or maybe a snow check. Here is hoping there is a quick melt-off.
Now the real question, do people even want to play golf. The events of yesterday in Augusta, leaves one wondering, is this Hello-World Part 2. Jeez we hope not. But this is the result you get, when the Back Nine on Sunday, turns into the front nine on Sunday, and the leaders tee off bright and early on a Sunday morning.
The string of 13 great Masters ended yesterday with Tiger Woods winning. With Patrick Reed slipping the jacket on Tiger in the Butler Cabin. Somewhere the members of the Augusta National Golf Club are cringing with those two together in the same room for the green jacket ceremony.
I thought this was a Masters week where the late-great Dan Jenkins was to be honored, but this was no way to do it. Now, Jenkins is rolling over in his grave. He like many, is not a fan of the new green jacket holder.
This was a could-have, should have, would have, day for both Francisco Molinari, and or Tony Finau. Even Brooks Koepka for that matter. How in the world did all three of them go-splash on the par 3, 12th hole. The Las Vegas sportsbook's must have been full of gamblers in tears. Did I just hear someone shout "fix".
Speaking of Koepka, he should be the main story line come June, as he bids for his third straight U.S. Open. Question now is will he be. You know that other guy won here 19 years ago. The second story line is that Phil Mickelson who won at Pebble Beach earlier this year, is going for the career Grand Slam, but will it be. Dustin Johnson who should be World #1 again this week, has a great track record at Pebble Beach that includes some "W's". Will he get a mention.
But before we get to Pebble Beach, there is a PGA Championship to play next month on Bethpage Black. The story should be about Jordan Spieth going for a career grand slam, but will it be. Or did the last U.S Open Champion at Bethpage, Lucas Glover work through the marital woes with his wife. That, grabbed the headlines a few months back.
I'm sorry to say, it will be all about that guy who won there in 2002. In fact everything that the women's game received from launch of the Augusta Amateur, is likely lost now.
PGA TOUR events will now be filled with players that people in the gallery will say, I never heard of him before. Of course, because nobody will be writing the good stories, and what we need to learn about the up and comers.
Yeah it will be back to the days of, is he playing? Oh, I don't need to watch because I know who is going to win already.
Press conferences will be filled with paparazzi media, asking the Masters Champion what his favorite TV show is or does he like Sushi.
On the heels of the dumbest ESPN story ever written about golf, how Tiger chews his gum like Payne Stewart did (that should have cost somebody their media credential) . Get ready for more bad Nike commercials too. Then again, the talking head-cover is due for a return.
Golf has been down that road before, on how it's all about one player. It almost killed the sport, are we ready to travel down that low-road again.
Last but not least. Don't even start with the #GOAT talk. If you really think that, go seek professional help. You need it. There will only ever be one GOAT. And that #GOAT is not a Tiger, it's a Bear, and a Golden one at that. RS