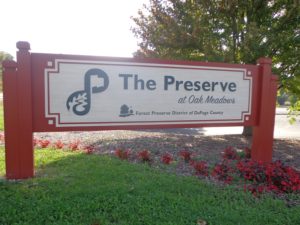 MISTWOOD GOLF CLUB on Renwick Road in Romeoville, is now open for the season. Check out Mistwood, it's state of the art Performance Center and McWethy's Tavern. Mistwoodgc.com or call (815)-254-3333. THE PRESERVE at OAK MEADOWS is now open for the season, find out the details for the Preserve by visiting DuPagegolf.com. ______________________________________________________________________
THE MASTERS and the "Back Nine on Sunday" gets underway this afternoon. Don't miss it.
This week Golfers on Golf Radio, Am 750 The Big WNDZ, had a great masters show. Live guests included Tim Cronin of the Illinois Golfer, and the new head golf professional at The Preserve at Oak Meadows, Jamie Nieto.
A replay of the show will be posted here on this website. If you missed the live version.
BLACKBERRY OAKS Golf Club in Bristol, home to one of the best 4-person spring scrambles. Cancelled today's outing because of bad weather. Therefore Blackberry Oaks has rescheduled for April 28th. More information at Blackberryoaks.com.
AMERICAN BILLIONAIRE Ric Kayne, is spending $50 million dollars. Kayne will build two new public golf courses. Great news, but you need to visit New Zealand to play them. Kayne has hired Bill Coore & Ben Crenshaw to design the first course. Architect Tom Doak will build the second.
PING GOLF is holding a fitting day at Pine Meadow Golf Club in Mundelein. Come try the Ping G410 driver, from 10 Am and 2 Pm, Saturday May 5th. Call (847)-566-GOLF, for more information.
NORTHWESTERN UNIVERSITY golfer and California native Brook Riley, tied for first place at the Silverado Shootout, in Napa Valley California. Riley was therefore named the Big Ten's, Women's Golfer of the Week.
GOLF APPAREL designer Peter Millar, has opened his first boutique in downtown Chicago. It's the chains 16th store overall, it's the first Millar store in the Midwest. The Millar store opened on Friday, and it's located at 877 North Rush Street.
RECORDING star Justin Timberlake, has confirmed he will participate in the Bass Pro Shops Legends of Golf. The Legends Tournament is held at the Big Cedar Lodge in Ridgedale Missouri, April 24-28, and it's part of the PGA Champions Tour. Other celebrities confirmed include Mark Wahlberg, Kid Rock and Roger Clemens.
Senior golf stars that are playing in the celebrity shootout include legends, Jack Nicklaus, Gary Player, and Lee Trevino.
The Gog Blog returns on Monday. RS.