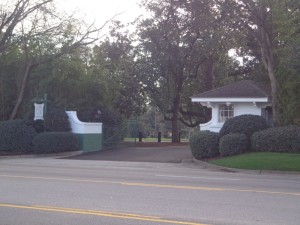 MISTWOOD GOLF CLUB on Renwick Road in Romeoville is now open for the season. Book tee times by calling (815)-254-3333 or Mistwoodgc.org #EatatMcWethysTavern. Welcome to the front gate of the Augusta National Golf Club-Enjoy Masters Week.          ______________________________________________________________________
BACK AND BETTER.
The Callaway Golf wedge line by Roger Cleveland just got better. That's because after the success of the Sure-Out wedge, the second version is available as of today.
Sure Out is the wedge made for golfers who struggle around the green, and in the rough. Do you have issues getting out of the sand, Sure Out is for you.
When you need a club that helps from all the tough lies, Sure Out is what you need, because your game deserves better.
Sure Out 2 is the wedge that helps you gain playability from all lies. The Sure Out 2's enhanced sole design, that has redefined the bounce angle, and extra heel relief brings more to your short game.
Full-Faced Grooves: There are now 17 full-faced grooves, that come with a redesigned groove patter for more spin.
You can now play more aggressive, and create shots with spin stopping power. This feature brings better distance control, so you can stop yourself near the pin and leave shorter putts for pars and birdies.
NEW LOFT OFFERINGS: now include 56-58-60 and 64 degree options. So whatever pitched shots you like to play, Callaway now offer the loft you want. Now in stores as of today April 12th. See Callawaygolf.com .