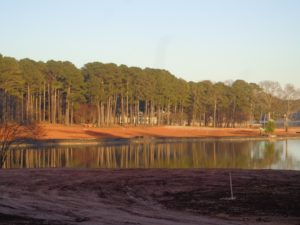 REYNOLDS AT LAKE OCONEE in Greensboro GA. (R) The Great Waters Course by Jack Nicklaus is under renovation. It reopens about Nov. 1st. Reynoldslakeoconee.com. ______________________________________________________________________
It's that time of year, Green Jacket Season. The flowers start to bloom, and the color of green starts to emerge.
Across America golf clubs that have been asleep in closets, garages start to awaken.
It's time to buy new golf clubs, golf balls, and a shirt or cap. It's golf season.
There is something about Masters week that carries over and beyond the gates of the Augusta National Golf Club. Golf season in many parts of America, starts over for another year. It's time.
WHO WILL WIN the green jacket this year ? Rory McIlroy is the favorite, and if he wins it will be the career Grand Slam for McIlroy, who always plays well at the Masters. Rory just doesn't cross the finish line in first place, he hasn't made it to the Butler Cabin on Sunday night but he can this year.
THE SO-CALLED EXPERTS say the Masters Tournament is as wide-open as it's been in years, so come Sunday night we will see if that's the case.
WHAT A FURIOUS CHARGE by Wheaton's Kevin Streelman on Sunday at the Valero Texas Open. Streelman let it all hang out, and was working on a 10 under par round on the par 5, 18th hole. Streelman got home in three shots, he needed a birdie to tie for the lead. He three-putted. Never-the-less, his game is rounding into shape.
THIS WEEKEND, the Kohler Golf Challenge is expected to tee off on the original Blackwolf Run Course, and then the Irish Course. This weekend is the first of three weekends of championships, but will it be. Rumors of big snow could haunt the Midwest and make things in Kohler all white. Let's hope not. Call (855)-510-7225 to book your spot in the field, besides if it snows, enjoy the Great Waters Spa instead.
MISTWOOD GOLF COURSE in Romeoville will open on Thursday, being one of the last golf courses to do so. As a result the course will be in good shape. Tee times can be booked by calling (815)-254-3333.
THIS WEEKS GOLFERS ON GOLF RADIO will be week #3. Details are coming together, but you can bet there will be some Masters talk.
THERE WILL BE SOME WRAP UP on the Augusta Women's Amateur, and the Drive, Chip and Putt for the junior golfers. Both events add-on to one of the great weeks in sport.
DO YOU have your picks in, because missing out on a Masters Pool is something you don't want to do. The Gog Blog returns tomorrow. Enjoy the Masters because it's so good. RS