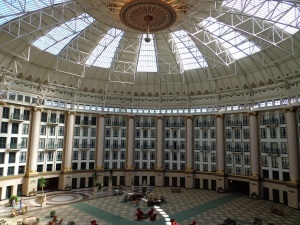 THE WEST BADEN DOME part of the French Lick Resort, and one of the ten wonders of the world. Stay in the dome when you visit the French Lick Resort. FrenchLick.com.    ______________________________________________________________________
THE BOYS ARE BACK IN TOWN AGAIN !
Yes they are, and show #1 is in the books, and we are looking forward to week #2 on Saturday.
Our first guest will be Global Golf Post publisher Jim Nugent, who will be checking in from the Augusta National Golf Club. The Augusta Women's Amateur will be in it's final round, and the ladies will be playing at Amen-Corner. How will they do.
This past Saturday, it was nice that Mike Munro stopped by to guest host with the rest of the foursome. In the meantime you can catch up with Mike at the Green Street Grille in Bensenville.  A place where they do serve real beer.
PRAIRIE LANDING in West Chicago is seeing some changes GOG has learned. JR Starnes is headed to the east coast with his family, and Bryant Gaynes the clubs outing coordinator, takes over as Director of Golf Operations. The club will be redoing it's bar and grill area this summer, and adding an outdoor deck for golfers to watch action on the course while enjoying food and beverage.
UPDATE from the WGC Match Play…watch out for 50 seeds. They can really be dangerous.  #Bjerregaard
FRENCH LICK RESORT is hosting the Symetra Tour in July on the Donald Ross Course, and the Sr. LPGA Championship on the Pete Dye Course in October. Now comes word the resort is working on adding other tournaments. French Lick Resort is now working with local Indiana governments agencies, on adding a sports book for gambling. This would be part of their addition to the casino area, that will already include suites, and a sports bar area.
DUPAGE GOLF will have all of it's golf courses open by Thursday, when the Preserve at Oak Meadows opens for the season. I'm hoping to have an update on the groundbreaking before long, on the new clubhouse at the preserve at Oak Meadows. Green Meadows opening was delayed until tomorrow, because of work in the parking lot.
FROM ORLANDO FLORIDA…comes news that Arnold Palmer's Bay Hill Lodge will be undergoing major renovations that will take over 1 year. One expected improvement will be the enlarging the main dining room, and or grill area. This will showcase much of Palmer's memorabilia. Expect all rooms to be upgraded as well. ANOTHER ORLANDO property, the Reunion Resort has been sold, no word yet on what changes might happen.
A HAPPY 50th BIRTHDAY to PINEHURST RESORT President, Tom Pashley.
CONGRATULATIONS to Canal Shore Golf Club in Evanston, that is turning 100 this year.
THE GOG BLOG RETURNS tomorrow. RS