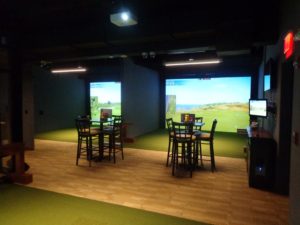 INDOORS AND OUTDOORS the Schaumburg Golf Club is now a year-round golf facility and those outdoors rounds are coming soon. Are you ready to take your game back outdoors, some courses in the area opened last week. Be ready for April when most our area clubs open 2019, by getting your game ready in the simulator bays at the Schaumburg Golf Cub, 401 Roselle Road. Call today for your tee time (847)-885-9000.   _____________________________________________________________________
TOPTRACER-TOPGOLF Demo Day at the 2019 PGA Merchandise Show in Orlando Florida, (R) ground breaks for the new Top Golf going up in Schaumburg on the grounds of the former Motorola Campus.
THE GOG BLOG by Rory Spears, Director of Content and Creation, Follow Rory on Twitter @GogBlogGuy, Linkedin and Facebook. Golfers on Golf Radio returns Saturday March 30th, Am 750 WNDZ-Chicago our Tee-time is 10 AM.
Topgolf is expanding in the Chicago area with a new location in Schaumburg, this will bring the amount of Topgolf's in the area to three. There are questions on whether of not the Topgolf in Woodale will kept or not, when Schaumburg does open expected to be in late summer. The Naperville Topgolf is continuing to be successful since it's launch a few years back.
One thing that has become very apparent, is the success of Topgolf is spreading and more locations around the country are springing up. Competition for the Topgolf business model is growing. A competitor has sprung up with the former Topgolf CEO now at the helm.
Recently at the PGA Merchandise Show, Golfersongolf.com caught up with Andrew Macaulay Topgolf's Chief Technology Officer (CTO), who says the Schaumburg is going to be another fantastic location for Topgolf, that opened 10 locations in 2018, and is looking for 8-10 new locations in 2019, with Schaumburg being one of them.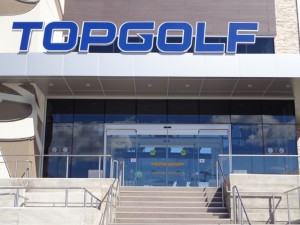 NAPERVILLE is still one of Topgolf's newer facilities and is attracting plenty of golfers looking for a fulfilling experience and a lot of fun.
Click here to hear our interview with Topgolf CTO Andrew Macaulay, who talks about new locations around the country, and improving the Topgolf product, and technology.
Toptracer technology that has made it's way into the Mistwood Golf Dome has brought our golfers to the Mistwood Golf Dome in record numbers. When you need to work on your game, or enjoy some top golf courses in simulator fashion during the winter season, Toptracer found in one dome only, the Mistwood Golf Dome is a great way to play or practice.
Find out more about Topgolf at Topgolf.com. Golfersongolf.com will have more on Topgolf over the next two days.